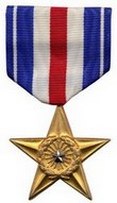 Ray Flanigan
Date and Place of Birth: January 8, 1923 Morgantown, West Virginia
Died: March 28, 1993 Baltimore, Maryland
Baseball Experience: Major League
Position: Pitcher
Rank: Technical Sergeant
Military Unit: US Army
Area Served: European Theater of Operations
Major League Stats: Ray Flanigan on Baseball-Almanac
Raymond A "Ray" Flanigan was born in Morgantown, West Virginia on January 8, 1923. He played for Hagerstown of the Inter-State League in 1941 and was 11-15 with the Baltimore Orioles of the International League in 1942.
Flanigan joined the Army on January 8, 1943. He served in Europe and commanded a volunteer unit that held back German forces. He was recommended for a Silver Star and battlefield commission, and his unit was recommended for a unit citation.
When news of Flanigan's heroics was reported in February 1945, it prompted International League president, Frank Shaughnessy, to say, "It burns me up whenever I read stories which convey the impression that few, if any of the professional ball players are getting close to combat areas. That's not true. I know that quite a number of major and minor league players have had battle experience, and there's a bunch of them on the front lines today. It is ridiculous for anyone to think or say otherwise."
After his military discharge in December 1945, Flanigan rejoined the Baltimore Orioles in 1946. He was 13-14 with a 4.09 ERA and joined the Cleveland Indians in September. He made his major league debut against the Detroit Tigers on September 20, 1946, allowing five runs in the fourth inning in relief of Allie Reynolds. He made a further two appearances that season to conclude his major league career.
Flanigan was back with Baltimore in 1947 and played for Oklahoma City of the Texas League in 1948 and 1949, where he ended his professional career. But he didn't stop playing baseball. Flanigan went on to pitch for the semi-pro St Joseph Auscos of the Michigan-Indiana League.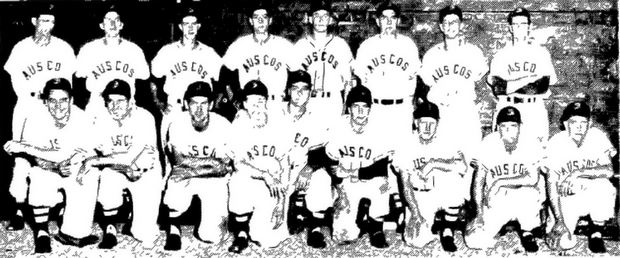 The St Joseph Auscos of the Michigan-Indiana semi-pro league in 1949 (Flanigan is back row, second left)
Ray Flanigan passed away in Baltimore, Maryland on March 28, 1993. He was 70 years old.
Created April 14, 2007. Updated January 6, 2008.
Copyright © 2015 Gary Bedingfield (Baseball in Wartime). All Rights Reserved.