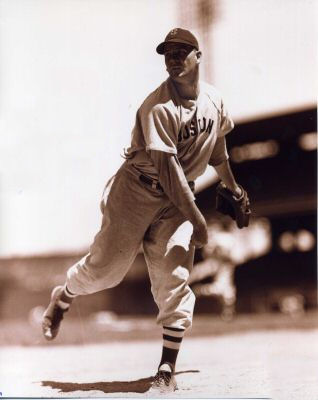 David M "Boo" Ferriss was born on December 5, 1921 in Shaw, Mississippi. He attended Mississippi State University and was signed by the Boston Red Sox after his junior year in 1942. Ferriss played for Greensboro of the Piedmont League his rookie year, appearing in 21 games for a 7-7 won-loss record and 2.22 ERA.
On January 4, 1943, Ferriss entered military serviced with the Army Air Force. After initially being stationed at Camp Shelby, Mississippi and Miami, Florida, Ferriss spent 22 months with 8th Air Force Command at Randolph Field, Texas an athletic instructor. During that time he was taught to pitch by former major leaguer Bibb Falk.
Ferriss was medically discharged on February 24, 1945, because of a severe asthma condition that caused him to be hospitalized for four months. He joined Louisville of the American Association for spring training in 1945 but found himself on the Red Sox roster at the start of the season.
Ferriss made his major league debut on April 29. His first two wins were shutouts and he won his first eight starts, finishing the year with an incredible 21 victories and 2.96 ERA.
Ferriss was even better in his sophomore year, winning 25 games and losing only six against returning vets. He hurt his arm in 1947 and along with that his velocity gone. By 1950, Ferriss was pitching for Birmingham of the Southern Association and spent the next three years with Louisville of the American Association.
Ferriss was a pitching coach with the Red Sox from 1955 to 1959, and began coaching Delta State University, Mississippi in 1960, a position he retained for 26 years.
Created March 11, 2008.