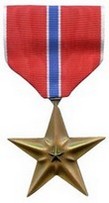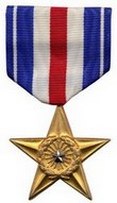 Bill Evans
Date and Place of Birth: March 25, 1919 Quanah, Texas
Died: November 30, 1983 Grand Junction, Colorado
Baseball Experience: Major League
Position: Pitcher
Rank: Unknown
Military Unit: Company A, 385th Infantry Regiment, 76th Infantry Division US Army
Area Served: European Theater of Operations
Major League Stats: Bill Evans on Baseball-Almanac
William L "Bill" Evans was born in Quanah, Texas on March 25, 1919. He began his professional career with Cheyenne of the Western League in 1941 and was 10-13 with a 4.71 earned run average. The 6-foot-2 right-hander played for Burlington of the Bi-State League in 1942 and was 8-6 with a 3.65 ERA. He entered military service on September 28, 1942.
In 1944, Evans was with the 76th Infantry Division's combat training facility at Camp McCoy, Wisconsin, where he played baseball with the 76th Infantry Division Onaways. Teammates includes Bama Rowell and Cecil Travis. The 76th Infantry Division captured the Wisconsin State semi-pro championship in 1944.
He was sent overseas at the end of 1944, arriving in Southampton, England, and saw combat in France and Germany in 1945. Evans was awarded the Silver Star and Bronze Star. After the war's end he had time to play baseball. "Bill played lots of baseball in Germany," Evans' widow, Melba, explains. "He was based in Hof, Germany but played in Nuremberg for the 3rd Army. His team also played in France, Belgium, Luxembourg and Czechoslovakia." Evans teammates in Europe included Clarence Maddern, Ken Trinkle and Bama Rowell.
Evans returned in 1946 and reported to Burlington in the Tri-State League. He was sent to Amarillo in the West Texas-New Mexico League where he struck out 18 in the season opener against the Borger Gassers and posted a 26-7 won-loss record for the year. He was 17-12 at Muskegon in 1947. In 1949, Evans made his major league debut, pitching for games for the Chicago White Sox. Evans returned to the majors in 1951 to make nine relief appearances for the Boston Red Sox.
Bill Evans passed away on November 30, 1983, in Grand Junction, Colorado. He was 64 years old.
Thanks to Bill Evans' widow, Melba Evans, for help with this biography.
Created April 14, 2007. Updated January 6, 2008.
Copyright © 2015 Gary Bedingfield (Baseball in Wartime). All Rights Reserved.