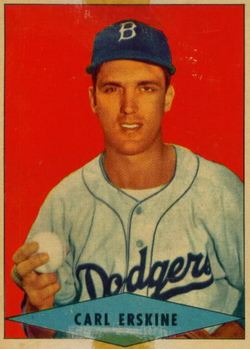 As a high school pitcher, Carl Erskine was being scouted by the Brooklyn Dodgers before joining the Navy in June 1945.
Following boot camp he was stationed at Boston Navy Yard in Massachusetts. "I went to the recreation officer," Erskine recalled in his autobiography Tales from the Dodger Dugout, "introduced myself and asked if I could get on the baseball team. The officer seemed a little indifferent, then asked me my name and where I had ever played. I told him I had pitched in high school and semipro in Indiana. He looked me over, asked me what I weighed (165) and then said he had enough pitchers. I went away disappointed and found a local semipro team to pitch for on Sundays."
While in Boston, Erskine worked out with the Braves and was asked to sign. But he wanted to play with the Dodgers and after his Navy discharge he was signed by Branch Rickey for $3,500. He began his pro career with Danville in the Three-I League in late-1946 and pitched nine games with 52 strike outs in 50 innings.
He made his major league debut with the Dodgers on July 25, 1948. During the pre-game workout one day, a man kept yelling at Erskine from the stands. "Players were not permitted to fraternize on the field with the fans," he explained in his autobiography, "so I ignored him. Still, the fan persisted in calling out at me. Finally, I walked over to the rail. He stuck out his hand and said, 'Shake hands with the dumbest so-and-so in the world. I'm the rec officer who wouldn't let you pitch for the US Navy. With guys like me, I'm surprised we won the war.'"
Erskine was a 20-game winner for the Dodgers in 1953, threw two no-hitters and was a member of the 1955 World Series team.
Following his retirement as a player in 1959, Erskine returned to Indiana. He coached at Anderson College for 12 seasons, including four championships, and rose to the presidency of the First National Bank of Anderson.
To commemorate Erskine's accomplishments both as a member of the Dodgers and as a citizen, a 6-foot bronze statue was erected in front of the Carl D. Erskine Rehabilitation and Sports Medicine Center. Also, Erskine donated part of his land to the Anderson Community School System to build a new school, which was named Erskine Elementary.
Thanks to Carl Erskine for help with his biography.
Created April 14, 2007.
Copyright © 2015 Gary Bedingfield (Baseball in Wartime). All Rights Reserved.