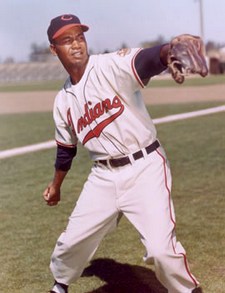 Lawrence E "Larry" Doby was born in Camden, South Carolina on December 13, 1924. His family moved to New Jersey and Doby lettered in baseball, basketball, football and track at East Side High School in Patterson. He then attended Long Island University.
In 1942, at the age of 17, Doby won the Negro National League batting title with a .427 average. It was his first year in professional baseball as a second baseman with the Newark Eagles.
Doby hit .325 with the Eagles in 1943 and entered military service at the end of the season. He served with the Navy at Great Lakes Naval Training Station in Illinois, where he played with the Negro baseball team. He was also stationed at Camp Sam Roberts, California, Treasure Island and San Diego before reaching Ulithi Atoll in the Pacific.
Doby was back with the Eagles in 1946, batting .360, helping the team to the Negro League World Series title, and attracting interest from major league scouts. Doby began 1947 with the Eagles but signed with the Cleveland Indians on July 2, 1947, the first African-American to play in the American League. That same year he also signed with the Patterson Panthers of the American Basketball League as the first African-American in that league.
Doby played 29 games and batted .156 with the Indians in 1947, but became a regular the following year, batting .301 in 121 games and playing a key role in the 1948 World Series against the Boston Braves.
Larry Doby remained in the major leagues until 1959 and played over 1500 games. In 1962, Doby and Don Newcombe became the first former major leaguers to play for a professional Japanese team when they joined the Chunichi Dragons. He later became only the second African-American manager in the American League when he took over the White Sox in 1978.
During the 1980s Doby served as director of community relations with the New Jersey Nets of the National Basketball Association. He was elected to the Baseball Hall of Fame in 1998.
Larry Doby passed away in Montclair, New Jersey on June 18, 2003, aged 79.
Created May 13, 2007. Updated May 10, 2015
Copyright © 2015 Gary Bedingfield (Baseball in Wartime). All Rights Reserved.