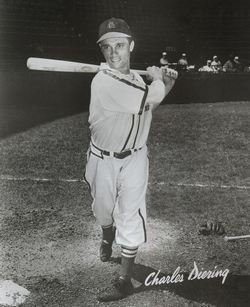 Charles E A "Chuck" Diering was born on February 5, 1923 in St Louis, Missouri. He signed with the St Louis Cardinals in 1941 and played for Daytona Beach of the Florida State League where he batted .213 in 59 games.
In 1942, Diering was with Albany of the Georgia-Florida League where he came alive with a .305 batting average in 126 games. His career was put on hold when military service called on February 4, 1943, and he served with the Army in the States and in the Pacific. "I had the opportunity to play all kinds of sports, mostly baseball, for patients and other soldiers," Diering explains. "I played for the 44th General Hospital in the States and Australia. On Leyte I played for Base "K". We played Kirby Higbe's team in Manila defeating them three games out of nine [October 1945]."
Diering worked at the orthopedic clinic of the 44th General Hospital at Fort Sill, where he led the league with a .524 batting average and eight home runs in 12 games.
Private First-Class Diering was discharged from service on January 15, 1946, and played for Rochester of the International League, where he batted .266. He was with the Cardinals at the start of the 1947 season and made his major league debut on April 15. He played in 105 games, often as a defensive replacement, and batted .216. He was back with Rochester for further seasoning in 1948, and returned to the Cardinals in 1949, playing 131 games and batting .263.
Diering remained with the Cardinals until he was traded to the Giants in 1952. In his only season in New York he played just 41 games and spent much of the year with Minneapolis of the American Association. Diering spent 1953 with Minneapolis and batted .322 with 12 home runs and 74 RBIs, prompting him to be drafted by the fledgling Baltimore Orioles for 1954. Diering spent the next three seasons with the Orioles and finished his in the minors with Vancouver of the Pacific Coast League in 1957.
Created March 11, 2008.