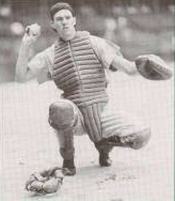 George W "Skeets" Dickey was born on July 10, 1915 in Kensett, Arkansas. The younger brother of Hall of Famer Bill Dickey, George signed with Wheeling of the Middle-Atlantic League in 1933. He was with Norfolk of the Piedmont League in 1934 and advanced to Little Rock of the Class A Southern Association in 1935, getting a call-up to the Boston Red Sox at the end of the season.
Dickey played for Little Rock, Milwaukee and Minneapolis in 1936, in addition to appearing in 10 games with Boston. He remained in the minors for the next four years with Minneapolis, Portland and Oklahoma City, but found his way back to the major leagues with the Chicago White Sox as a back-up catcher in 1941. Dickey played 37 games that year and appeared in a further 59 games in 1942, when he batted .233.
Dickey was called into military service on October 12, 1942. He was a gunnery instructor in the anti-aircraft school at Great Lakes Naval Training Station throughout 1943, handling classes in theory and firing at an airplane-towed target. He was assigned to Hawaii in 1944, where he played baseball with the Aiea Hospital team and appeared in the Army-Navy Service World Series.
Dickey was part of the Navy's Fifth Fleet team for the Western Pacific tour and later supervised recreation for a hospital near Agana, Guam.
He was discharged from service on October 13, 1945 and rejoined the White Sox and appeared in 37 games. In 1947, the 32-year-old catcher played a major-league career high 83 games and batted .223. It was, however, his last year in the majors. Dickey was with Birmingham of the American Association in 1948, where he ended his playing days.
George Dickey was in the investment business in Little Rock after baseball. He died of a heart attack while fishing at Dewitt, Arkansas on June 16, 1976. He was 60.
Created March 30, 2008.