Date and Place of Birth: September 6, 1911 Los Angeles, California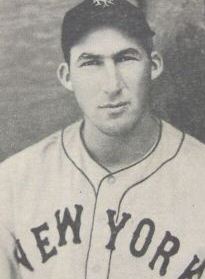 Harry Danning was born on September 6, 1911 in Los Angeles, California. He was signed by the New York Giants organization in 1931 and played for Bridgeport of the Eastern League his rookie year. He was with Winston-Salem of the Piedmont League in 1932, and batted .349 in 55 games for Buffalo of the International League in 1933 before joining the Giants in July.
Danning remained a back-up catcher for the Giants until 1937 when he replaced Gus Mancuso as the team's starter behind the plate. Starting in 1938, Danning enjoyed four straight all-star seasons. His best year was 1939, when he batted .313 in 135 games and hit 16 home runs.
Danning entered military service with the Army on April 6, 1943. Shortly after induction, Danning and his fellow GIs heard a rumor that if you could shoot well you would go into the infantry. At the rifle range Danning didn't shoot at his target and still got 12 bulls eyes in ten shots! Everyone was shooting at each other's targets.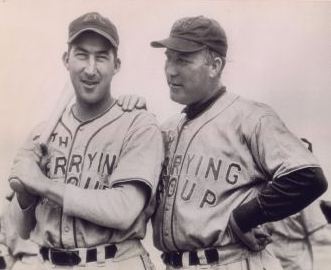 Harry Danning (left) with Red Ruffing while playing
for the 6th Ferrying Group
Nevertheless, he still managed to avoid the infantry and served with the Army Air Force at Long Beach Army Air Base in California, where he became a sergeant with the 6th Ferrying Group of the Air Transport Command. Look here if you're interested in online betting nz.
Sergeant Danning regularly played for the 6th Ferrying Group ball team throughout the war. On April 11, 1943, he was catching for the Service All-Stars when they defeated Hollywood of the Pacific Coast League, 5 to 2.
In May 1945, Danning was admitted to an Army hospital due to knee injuries suffered while playing baseball. Doctors advised him that continuing to play the game could cause permanent damage and the 33-year-old decided to retire from the game. Following his discharge, Danning was a minor league coach and worked as a car dealer, a newspaper and magazine distributor and an insurance executive.
Harry Danning passed away on November 29, 2004 in Valparaiso, Indiana. He was 93.
Created March 17, 2008.