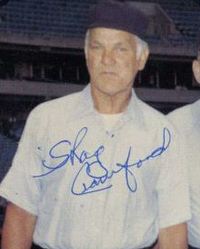 Henry C "Shag" Crawford was born on August 30, 1916 in Philadelphia, Pennsylvania.
He married Vivian Gallagher on November 2, 1940, and had a variety of jobs including milkman and cab driver before entering military service with the Navy in World War II.
Electrician Third Class Crawford was on the destroyer USS Walke when it was struck by a Japanese kamikaze on January 6, 1945 during the invasion of Luzon. The plane crashed into the bridge on the port side and burst into flames, causing the destroyer to lose all communications, radars and electricity throughout the superstructure. She also suffered extensive damage to the bridge itself in which commanding officer George Fleming Davis suffered fatal injuries and was posthumously awarded the Medal of Honor.
Amazingly, the Walke continued to operate until after the landings on January 9. The next day, she departed for Leyte and arrived in San Pedro Bay on January 13, where she remained while undergoing repairs. The ship reached the Mare Island Navy Yard in Hawaii on February 6 and began permanent repairs.
Following military service, Crawford continued to work in an assortment of jobs and also umpired high school baseball games to earn a few extra dollars. Crawford was umpiring a Roman Catholic High School game in 1950, when coach Joe "Goldie" Graham asked if he would be interested in umpiring professionally. Crawford expressed a definite interest and shortly thereafter had himself a two-month contract to work the Canadian-American League.
Crawford moved up to the Eastern League in 1951 and then to the American Association in 1954. He made his major league debut in the National League in 1956, aged 39.
Crawford went on to umpire World Series in 1961, 1963 and 1969. He was at third base on June 4, 1964, when Dodgers' pitcher Sandy Koufax threw his third no-hitter. He was relieved of his duties in 1975 for refusing to work the World Series, due to a rotational system being put in place for selection of World Series umpires, over the traditional assignment by merit.
Crawford became an avid golfer in his retirement and was regularly seen at the Edgmont Country Club in Delaware County. Two of his sons became sports officials. Jerry became a major league umpire in 1977 and Joe became an NBA referee the same year.
Shag Crawford passed away at the Glen Mills assisted-living facility in Philadelphia on July 11, 2007. He was 90 years old.
Created September 5, 2007.
Copyright © 2015 Gary Bedingfield (Baseball in Wartime). All Rights Reserved.