Eddie Collins Jr
Date and Place of Birth: November 23, 1916 Millerton, New York
Died: November 2, 2000 Kennett Square, Pennsylvania
Baseball Experience: Major League
Position: Outfield
Rank: Lieutenant
Military Unit: US Navy
Area Served: Pacific Theater of Operations
Major League Stats: Eddie Collins Jr on Baseball-Almanac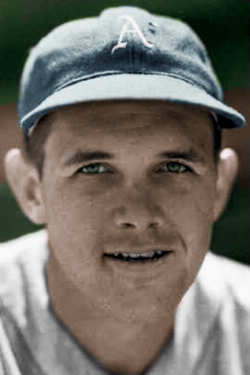 Edward T "Eddie" Collins, Jr was born on November 23, 1916 in Millerton, New York. The son of Hall of Fame second baseman, Eddie Collins, Eddie Jr was a football star at Yale. He signed with the Philadelphia Athletics in 1939 and played 32 games his rookie year.
In 1940 he joined Baltimore of the International League where he batted .293 in 148 games and was back with the Athletics for a career-high 80 games in 1941. Collins played 20 games in 1942 before entering military service with the Navy.
With the rank of lieutenant, Collins was a Naval communications officer aboard the light cruiser USS Miami (CL-89) and participated in the battle of the Philippine Sea and the Philippine Islands, Iwo Jima and Okinawa invasions.
He returned to the Athletics in 1946 but was released in April and played for Jersey City and Buffalo of the International League before retiring from the game as a player. He was assistant general manager of the Philadelphia Phillies from 1954 to 1955.
In 1955, he received a master's degree in education from Harvard University, and taught history at Episcopal Academy from 1960 to 1982.
Eddie Collins Jr passed away on November 2, 2000 in Kennett Square, Pennsylvania.
Created May 29, 2008. Updated January 11, 2015
Copyright © 2015 Gary Bedingfield (Baseball in Wartime). All Rights Reserved.