Ray Coleman
Date and Place of Birth: June 4, 1922 in Dunsmuir, California
Baseball Experience: Major League
Position: Outfield
Rank: Seaman First Class
Military Unit: US Navy
Area Served: Mediterranean and Pacific Theaters of Operation
Major League Stats: Ray Coleman on Baseball-Almanac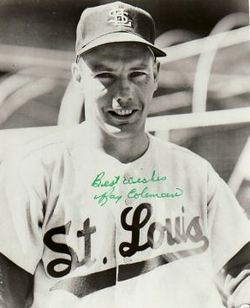 Raymond L "Ray" Coleman was born on June 4, 1922 in Dunsmuir, California. He was signed by the St Louis Browns in 1940 and spent his rookie season with Paragould in the Northeast Arkansas League.

Batting .252 with 6 home runs and 37 RBIs, the young outfielder moved on to the Mayfield Browns of the Kitty League for 1942. Coleman had an outstanding season with Mayfield and batted .346 while leading the league with 52 doubles and 122 RBIs. He earned promotion to Springfield of the Three-I League in 1943 and hit .293 before entering military service at the end of the season.

Seaman First Class Coleman was initially stationed at Treasure Island, California before embarking of overseas service that would take him from the Mediterranean to the Pacific.

"Boy, I never thought it was going to end," Coleman said in the Spring 2006 edition of Pop Flies - the official newsletter of the St Louis Browns Historical Society. "But at least I always had a dry bed to sleep in.

"I didn't play any ball while in the Navy - all I got was beacheads! One time we went through Honolulu when all the major leaguers who were in the service were there playing. I tried to get them to let me play, but if they let me replace one of the guys who was already playing then he would have to take my place - and nobody wanted to make that trade!

"I was on a transport while I was in the Navy. Ammunition and troops, all that. I was in the Indian Ocean, Bombay and Calcutta twice. I spent 18 months on my first ship in the Mediterranean, North Africa, Italy, Anzio and Augusta. Then I went on my second ship and we hit Saipan. I was there twice. I was a 5-inch Thirty-Eight Specialist. I knew them things inside out.

"When we came back after the second run I went aboard another ship. We started in New Guinea, came all the way up through the Philippines - I was everywhere."

When Coleman left the service at the end of 1945, he joined the San Antonio club in the Texas League. It took him a little while to get back into the swing of things but finished the season with a .287 batting average and 51 RBIs. He joined the St Louis Browns for 1947 and made his major league debut on April 22.

Coleman played 110 games and batted .259. He got off to a slow start in 1948 and was traded by the Browns to the Athletics on June 4. Coleman returned to the minors for 1949, but after batting .295 with 23 home runs and 113 RBIs for Buffalo, he returned to the major leagues when he was dealt back to the Browns by the Athletics. Coleman played 117 games with St Louis and batted .271.

He was selected off waivers by the White Sox in July 1951 and ended his major league career when he returned to the Browns for the third time in 1952. He continued to play in the minor leagues for a few more years with St Paul, Fort Worth and Omaha.

Ray Coleman lives in Hornbrook, California.
Created December 24, 2007.
Copyright © 2021 Gary Bedingfield (Baseball in Wartime). All Rights Reserved.