Go on, why not sponsor this page for $5.00 and have your own message appear in this space.


Click here for details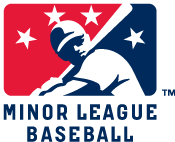 Ray Champagne
Date and Place of Birth: July 4, 1921 Woonsocket, Rhode Island
Died: September 2, 2014 Woonsocket, Rhode Island
Baseball Experience: Minor League
Position: Third Base
Rank: Corporal
Military Unit: HQ Battalion, 21st Marines, Third Marine Division, US Marine Corps
Area Served: Pacific Theater of Operations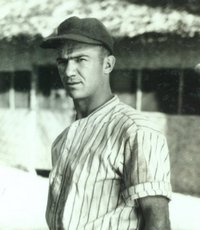 Third baseman Ray Champagne was born in Woonsocket, Rhode Island on July 4, 1921. At the age of 15 he played for the Kornstein Juniors who won the Junior Twilight League. He also played high school baseball at Franklin High and American Legion ball in Providence, Rhode Island.
After leaving high school, Champagne played for the Model Dairy team that won the Twilight League title.
Champagne went to Albany, Georgia in 1941 for a tryout with the St Louis Cardinals. He played in an exhibition game against the major league club which was coming up from spring training and remained in Albany for three weeks before returning to Rhode Island to play with American Wringer in a semi-pro league.
In 1942, Champagne played for Marquette in the New England League. He joined the Marines in July 1942 and served in the Pacific with the Third Marine Division.
Following the Guadalcanal campaign in 1943, Corporal Champagne helped guide the HQ Battalion baseball team to the Third Marine Division pennant. The team's line-up included Art Manush (nephew of Hall of Famer Heinie Manusch and a minor league player before the war), James Trimble (an outstanding high school pitcher signed by the Senators before enlisting) and Bobby Schang (a minor league player and son of former major league catcher Wally Schang). Champagne - along with Manush, Trimble and Schang - were selected to play for the Third Marine Division all-star team that lost to the Army all-stars, 4-3, in 12 innings, in the Pacific World Series.
Champagne
left Guadalcanal for Guam in July 1944. After the Guam campaign ended in August 1944, the Third Marine Division baseball team was back in action on the ballfield. They played a series of exhibition games, and even traveled by air to neighboring islands for games against the Second Marine Division.
Third Marine Division All-Stars 1944
| | | |
| --- | --- | --- |
| Pfc Robert J Schang | HQ Battalion | Catcher |
| Pfc Stanley R Bazan | 21st Marines | Catcher |
| Cpl James E Hedgecock | HQ Battalion | Pitcher |
| Pfc Edmond J Beaumier | 3rd Marines | Pitcher |
| HA1c William W Connelly | 3rd Medical Battalion | Pitcher |
| | HQ Battalion | Pitcher |
| GySgt Edwin Burgess | 12th Marines | First Base |
| Cpl Louis J Griener | 3rd Marines | Second Base |
| Cpl Chester Pietras | HQ Battalion | Shortstop |
| Cpl Raymond H Champagne | HQ Battalion | Third Base |
| Sgt Edward Ellavsky | HQ Battalion | Utility Infielder |
| Cpl George B Cooper | 12th Marines | Left Field |
| Sgt Steve Johnson | 3rd Eng Battalion | Center Field |
| | 21st Marines | Center Field |
| Cpl Henry C Meyer | 9th Marines | Right Field |
| Pfc James Turner | HQ Battalion | Trainer |
| Col Lyman Passmore | Div Paymaster | Manager |
| Capt Arthur Manush | Asst A&M Officer | Coach |
| Capt Edward Gorman | 12th Marines | Coach |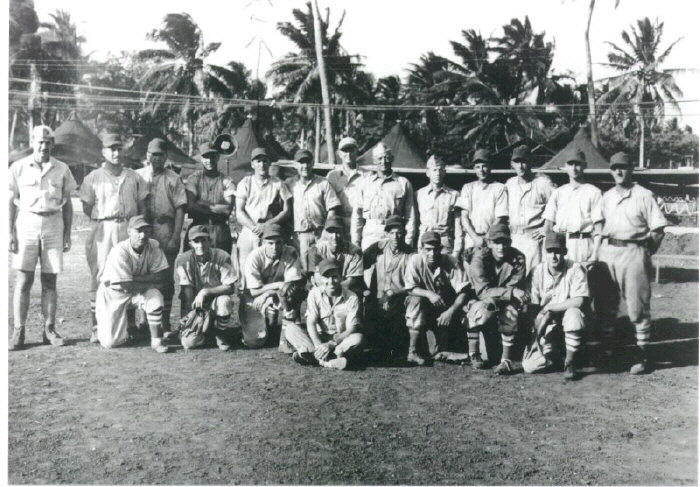 Third Marine Division All-Stars on Guam in 1944
Ray Champagne is front row, fourth from left
In February 1945 it was back to business as the Third Marine Division were involved in the invasion of Iwo Jima. During this battle, pitcher Jimmy Trimble was killed in action.
When the Marines returned to Guam after securing Iwo Jima, the Third Marine Division baseball field was renamed Trimble Field in honor of Jimmy Trimble.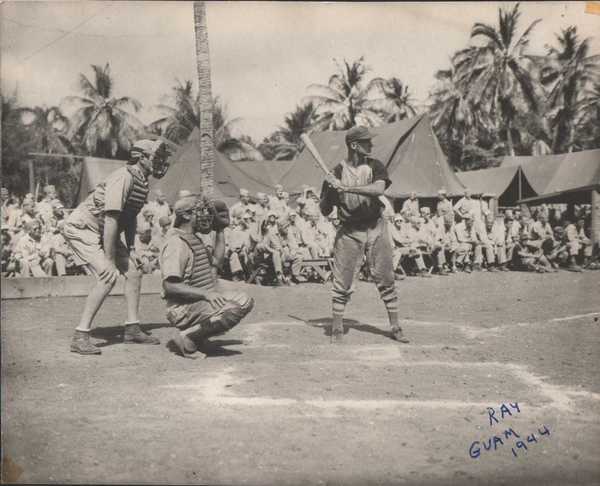 Ray Champagne returned to the United States in 1945. The Marines wanted him to play for their team in San Diego, but he chose to play at Quonset Point, Rhode Island which was much nearer home. He played in the 1st Naval District League and helped defeat the Portland (Maine) Navy team for the championship.
During his time at Quonset Point in 1945, Champagne – along with about 30 other players - was invited to Ebbets Field by the Dodgers, where he met Brooklyn general manager Buzzy Bavasi.
During the summer of 1945, Champagne also played for the Worcester Nortons in the semi-pro New England League, and was signed by Red Sox scout Jack Egan, receiving a $200 bonus. He was also offered a contract by Torchy Torrance – vice-president of the Seattle Rainiers – who had managed the Third Marine Division team in the Pacific.
Champagne chose to join the Red Sox and went to spring training in 1946. His wife, Violette, was expecting their first child at the time, and the Red Sox wanted to send Champagne to Scranton, Pennsylvania, but he wanted to stay close to home and requested to play for the Lynn Red Sox in the New England League which was a Class B status league in organized baseball for 1946. The Red Sox would not allow this and Champagne chose instead to play for a local semi-pro club.
Between 1947 and 1950, Champagne played baseball with the PQ team in the Suburban League and Jennie's Ice Cream in the Providence Amateur League. In his last time at bat at Roosevelt Park, Blackstone (Massachusetts), Ray hit a home run!
Ray worked as a salesman for 32 years for the International Supply Company in Cranston, Rhode Island. He and Violette had two sons (Robert and Gerald) and two daughters (Janice and Denise). Ray Champagne passed away on September 2, 2014, aged 93.
Thanks to Ray Champagne and his daughter Janice Pelletier for sharing this information.
Created January 8, 2007. Updated February 20, 2015.
Copyright © 2021 Gary Bedingfield (Baseball in Wartime). All Rights Reserved.