He joined the Ogden Reds of the Pioneer League the following season. "Cassini comes with a fine record," Secretary Johnny Sarlo of the Ogden Reds told the Ogden Standard-Examiner on November 24, 1940. "He may make the fans forget the fine work of Bobby Adams. I understand that he is one of the most promising rookies in baseball."
Cassini didn't disappoint the Ogden fans. He batted .282 before putting his career on hold to serve in the military. On December 3, 1941, Cassini entered service with the Army Air Force. He was stationed at Tinker Field, Oklahoma, home of the air technical service command for the maintenance and repair of aircraft and the training of air depot groups. Cassini was a physical training instructor and had plenty of opportunity to play baseball with the Tinker Field team in the Oklahoma State Service League.
Cassini also played with the Enid Army Air Field team that competed in the National Semi-Pro tournament at Wichita, Kansas. He was promoted to the rank of staff sergeant in January 1945 and was discharged from service at the end of the year.
The 25-year-old infielder joined the Cincinnati Reds at their spring training camp in Tamps, Florida in 1946. Despite making an impression as the fastest player in camp, he didn't make the team and spent the season with Oklahoma City in the Texas League where he struggled to regain his pre-war form.
In March 1947, Cassini was released by Cincinnati and joined Tulsa in the same league. He batted .319 and was acquired by the Pittsburgh Pirates in the minor league draft. Playing for the Pirates' farm team at Indianapolis in the American Association in 1948, Cassini batted .305 with 63 RBIs, led the league in stolen bases, and earned promotion to the Pirates for 1949. Utilizing his speed, the Pirates used him as a pinch runner on eight occasions before he rejoined Indianapolis and had another .300 season.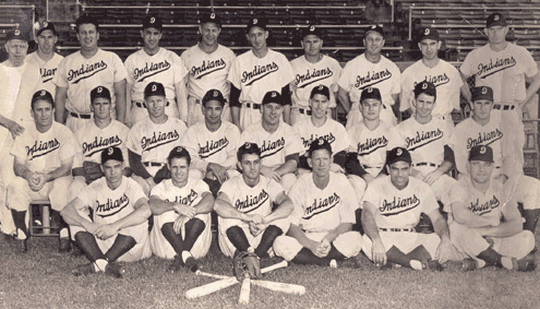 Indianapolis Indians in 1948 (Jack Cassini is middle row, third from left)
Pittsburgh sent Cassini to the Dodgers for 1950. He spent the next four seasons with St Paul in the American Association, and after batting .274 the first year, he hit above .300 thereafter and led the league in stolen bases in 1950 and 1952. Cassini also played in the Cuba Winter League and for Montreal and Memphis before ending his playing career in 1955. Over 12 seasons he played 1,517 minor league games and batted .304.
He later turned his hand to managing and was with Peninsula in 1964 when he made a couple of on-field appearances at the age of 45.
Jack Cassini lives in Mesa, Arizona