Campbell played American Legion Legion baseball and semi-pro ball with the Arcadia and Pacolet teams in the competitive South Carolina textile leagues before signing his first professional contract with Danville of the Bi-State League in 1936. He batted .324 with 15 home runs and 88 RBIs his rookie year and moved up to Rocky Mount of the Piedmont League for 1937 where he hit .309. In 1938, Campbell was with Little Rock of the Southern Association. He batted .330, led the league with 192 hits. and was rated as "one of the greatest first basemen ever to come out of the Southern Association." Campbell looked to be a certain successor for the Red Sox aging first baseman, Jimmie Foxx.

Campbell had strong seasons with Louisville of American Association in 1939 and 1940, and was with Boston at the start of 1941. Thirty-three year-old Jimmie Foxx, however, was off to a great start and there was little playing time for Campbell. He appeared in just one game and was optioned to Montreal for the remainder of the season.
When Foxx was sold to the Cubs in June 1942, it was expected that Campbell would be his replacement. However, another youngster, Tony Lupien turned in a superb rookie performance which limited Campbell to just 26 -mostly pinch hitting - appearances for a .067 batting average.
Campbell entered military service at Camp Croft, South Carolina on January 21, 1943. Following his induction he served with the Army Air Force at Morris Field, North Carolina, where he trained with the supply division. He was transferred to Jacksonville Army Air Base, Florida, in April 1943, and was sent overseas to Thurleigh airfield in England with the 306th Bomb Group shortly afterwards. Campbell was the hitting star with the 306th "Reich Wreckers" team and played in the all-professional game at London in August 1943. Following this game the Eighth Air Force team toured US military camps all over England. In 29 games, Campbell led the 20-man squad with seven home runs and a .470 batting average. He also played for the "Greys" in the UK All-Star game held at Stamford Bridge Stadium in London in June 1945.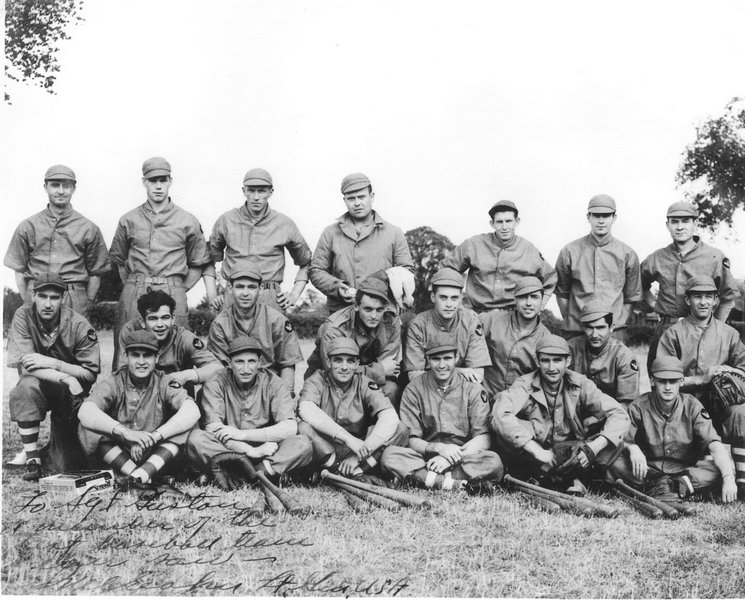 The Eighth Air Force All-Stars in England, 1943. (Campbell is front row, fourth left)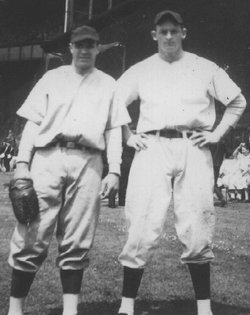 When asked how he felt about losing vital playing years during the war, he replied: "That's the way it was and, besides, I had fun playing ball over there."