Al Campanis
Date and Place of Birth: November 2, 1916 Kos, Greece
Died: June 21, 1998 Fullerton, California
Baseball Experience: Major League
Position: Second Base
Rank: Chief Petty Officer
Military Unit: US Navy
Area Served: United States
Major League Stats: Al Campanis on Baseball-Almanac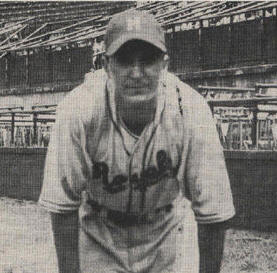 Alexander S "Al" Campanis was born Alessandro Campani on the Greek island of Kos on November 2, 1916. His family came to the United States when he was six years old and settled in New York.
Campanis graduated from New York University in 1940 and signed with the Brooklyn Dodgers. He was sent to the Macon Peaches of the South Atlantic League where he batted .302 in 46 games while playing second base. In 1941 he joind Reading of the Interstate League and batted .255 in 108 games. He was with Knoxville of the Southern Association in 1942 and Montreal of the International League in 1943, making his major league debut with the Brooklyn Dodgers on September 23. Campanis played seven games and got two hits in 20 at-bats before the season ended.
In 1944, Campanis was in military service with the Navy and was stationed at Norfolk Naval Air Station where he regularly played baseball. In 1945, he was assigned to St Albans Naval Hospital in New York where he coached the baseball team that summer.
Chief Petty Officer Campanis was discharged from service late 1945 and rejoined the Dodgers organization. He played with the pennant-winning Montreal Royals in 1946 and was with that team in 1947 before ending his playing days.
Campanis later became a scout for the Dodgers and is best remembered as the club's General Manager from 1968 to 1987. He was fired as a result of a high-profile incident in which he made racially insensitive remarks during a live interview on April 6, 1987. Campanis repeatedly tried to justify his remarks in later years and many other figures in baseball, such as Tom Lasorda and Don Newcombe, also spoke in his defense. Broadcaster Vin Scully, said he had known Campanis for 45 years. "He didn't have a racist bone in his body," Scully said.
Encuentra las mejores apuestas deportivas Chile.
His son, Jim Campanis, played for the Dodgers, Royals and Pirates between 1966 and 1973.
Al Campanis passed away at his home in Fullerton, California on June 21, 1998 and is buried at Loma Vista Memorial Park. He was 81.
Created March 29, 2008. Updated January 11, 2015
Copyright © 2015 Gary Bedingfield (Baseball in Wartime). All Rights Reserved.