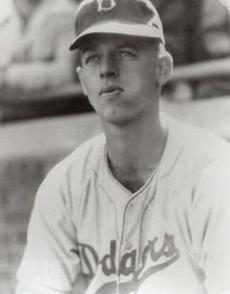 Cyril O "Cy" Buker was born on February 5, 1919 in
Greenwood, Wisconsin
. He excelled in sports at
Greenwood
High School
and went on to play baseball at the
University of Wisconsin
.
He graduated with a Bachelor of Science Degree in 1940 and took a job in teaching but also decided to try his hand at pro baseball. Buker signed with the New York Giants and was sent to Clinton in the Three-I League. "I hurt my elbow right away," he said in an interview some years later. "They didn't have any surgery for that kind of thing, and I thought I was done. I won my first game, 7-1, again Moline. But the next time out, I couldn't throw the ball up to the plate. My elbow was locked. They sent me over to Wausau in the Northern League."
Buker's elbow didn't improve that summer and he quite the game to return home and teach. He continued to play semi-pro baseball with a local team as a second baseman and gradually he arm recovered.
Buker decided to give the professional game another try in 1942 and signed with Wisconsin Rapids of the Wisconsin State League. He finished with a 5-5 record and 6.89 ERA, but the league folded at the end of the year and Buker found himself out of the game for the second time. He returned to coaching and this time took a job at Memorial High School in Eau Claire.
In the spring of 1944, Buker received a call from St Paul of the American Association. Returning for his third shot at the professional game, Buker had an outstanding season with an 11-3 record and 3.23 ERA. The Brooklyn Dodgers were keen to have the right-hander for 1945 and he was able to secure a leave of absence from his high school job to join the major league team at spring training. However, his 4-F classification was immediately changed to 1-A because of asserted job-jumping.
"I wasn't there two days before I was in the Army," recalled Buker. "The Army finally released me about May 15. I was in what they call the observation unit. I had asthma, and I was wheezing up a storm."
Buker made his major league debut on May 17. He appeared in 42 games during the season and had an impressive 7-2 record and 3.20 ERA. The 26-year-old rookie started only two games but won both, earning his first victory by beating the Phillies in Philadelphia, 9-2, on June 21. On July 18, in the second game of a double-header at Wrigley Field, Buker beat the Cubs, 9-5.
Buker arrived late for spring training in 1946 because of his teaching job in Wisconsin. He didn't make the cut and was optioned to Montreal, where he had a fine season with a 12-7 record and 3.81 ERA. He had got off to a 10-2 start but a home plate collision that injured his pitching arm and hand affected his late-season performance.
Buker pitched for St Paul in 1947, was with Milwaukee and Kansas City of the American Association in 1948, but refused to report for 1949 and was suspended for the season. He took a teaching and coaching job at Greenwood, Wisconsin, but gave baseball one last try in 1951, pitching and coaching in the Western League for a couple of summers.
Buker retired from teaching and coaching in 1970. He was inducted into the Wisconsin High School Football Coaches Hall of Fame and Wisconsin High School Baseball Coaches Hall of Fame.
Created December 17, 2007.