The fact that Lou Brissie ever stepped foot on a baseball diamond again after World War II, let alone pitch in the major leagues, is a testament to this man's sheer determination, courage, and will.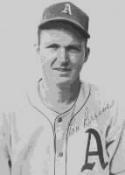 Leland V. "Lou" Brissie was born on June 5, 1924 in Anderson, South Carolina. He didn't play baseball in high school but played, instead, in the local textile league with the ware Shoals mill team. On the day he graduated from Ware Shoals High School, Athletics' manager, Connie Mack, signed him to a professional contract and agreed to send the 6-foot 4-inch southpaw to Presbyterian College for three years.
Brissie was scheduled to report to the Athletics for spring training in 1943, but enlisted with the Army in December 1942. "I lost a brother in the war so I enlisted in the service," Brissie explained.

Brissie began basic training on March 25, 1943, and was stationed at Camp Croft, South Carolina. In June 1944, he pitched for the Monaghan semi-pro textile team of Greenville. Brissie struck out 22 of the Easley mill team batters in the contest but lost, 1-0, on a home run. The week before, pitching for Camp Croft against the Greenville Army Air Base Jay Birds, he struck out 19.
Later that year, Corporal Brissie was sent to Italy with the 88th Infantry Division. He served as a squad leader with G Company of the 351st Infantry Regiment. On December 7, 1944, Brissie's squad was hit by a fierce artillery attack in the Apennine Mountains in northern Italy. "Our unit suffered over 90 percent casualties," Brissie said. "Within minutes we lost three of our four officers as well as eight other men in the barrage," he recalled. Brissie was badly hit. His left shinbone was shattered in more than 30 pieces and his left ankle and right foot were broken. He had to crawl for cover through the mud and then lay there unconscious until he was found hours later. Brissie was rushed to a field hospital where his leg should have been amputated, but somehow he was able to persuade the doctors to ship him to an evacuation hospital where the limb might be saved. He was finally sent to a military hospital in Naples where Captain Wilbur Brubaker set about saving the young soldier's leg. "Captain Brubaker did a marvelous job," Brissie told sportswriter Joe O'Loughlin in 2005. "Once he operated on me, I didn't wonder if I could make it back to pitch but how I could do it. I felt like the good Lord put Dr Brubaker in my life. I really felt that God put me on the path that took me to all those hospitals over that three-day period to get me to someone who could help me."
Brissie went through a total of 23 operations and 40 blood transfusions on the road to recovery. "They had to reconstruct my leg with wire," he explains. "I wound up going to hospitals all over. I was the first guy in the Mediterranean Theater who was put on penicillin therapy."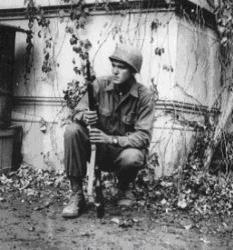 During that time, Brissie received a letter from Connie Mack who said that when Brissie was ready to play ball he would see to it that he would get the chance. Brissie never wavered from his vision of pitching in the majors.
"I'll play ball again," he told Scoop Latimer, sports editor of the Greenville News, "but it will be quite a while. I want to play ball. If God lets me, I'll play it, too. That's my ambition."
In 1945, still on crutches and with a Bronze Star and two Purple Hearts to his name, Brissie went to Philadelphia to see Mack. But at that time he was not ready to play. "Determination can do it," Mack told reporters. "I know he'll make good. I'll never forget how he looked last summer, he had just undergone an operation and was about to undergo another one. He was on crutches and I thought 'poor boy, he'll never be able to pitch again.'"
But crutches and all, Brissie could not stay away from baseball. Although he suffered a re-infection of the leg in 1946, he received a contract from Mack for 1947. He reported to the Savannah Indians of the South Atlantic League and went on to win 23 games that year with an incredible 1.19 ERA. "Brissie has had only one year of organized baseball," Mack told the press. "But he has tremendous speed and a lot of stuff."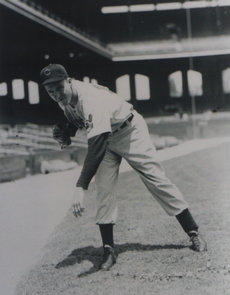 On September 28, with his leg in a specially designed brace, Brissie was on the mound for the Philadelphia Athletics in his major league debut. Facing the Yankees in their last game of the season, the lefthander went seven innings and struck out four against Bill Wight in the 5-3 loss.
"It was a great day," Brissie later recalled. "I thought I'd died and gone to heaven. I lost the game, but it was still a great experience."
Brissie returned with the Athletics for the 1948 season, posting a 14-10 record, as Mack's team finished a surprising fourth in the American League. In 1949, he won 16 games for the Athletics and continued to pitch in the majors until 1953. Despite recurring problems with his leg, including
"Lou was courageous beyond belief," teammate Eddie Joost told O'Loughlin. "I admire him so much for what he did."

Brissie later served as the national director of American Legion Baseball for eight years. For his contribution to youth and baseball, he was awarded the "Americanism Award" at the Baseball Hall of Fame in Cooperstown. He was also elected to the South Atlantic League Hall of Fame in 1994.
Lou Brissie participated in the salute to baseball in World War II entitled Duty, Honor, Country: When Baseball Went to War on November 9 – 11, 2007 at the National WWII Museum in New Orleans. Lou talked openly about his wartime service and said the "best friends I've had in my life were made right there, under those conditions." Lou also claimed that the conference was "the most extraordinary three days of my life."
Lou Brissie passed away on November 25, 2013, aged 89.
Some of the information contained in this biography was obtained from Joe O'Loughlin's June 2005 Baseball Digest article "Lou Brissie is an All-American", and Rich Westcott's article at the Philadelphia Athletics Historical Society website.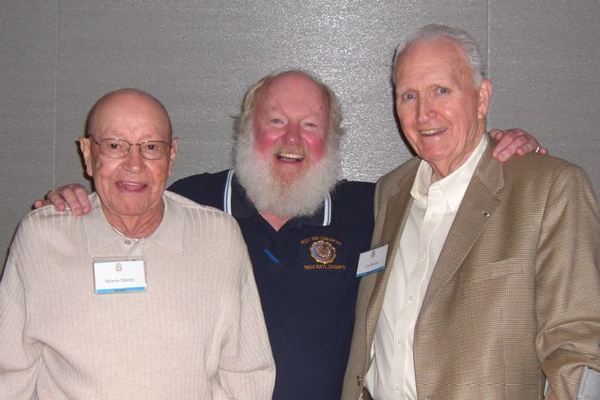 Lou Brissie (right) with Morrie Martin and Bill Swank at the
Duty, Honor, Country: When Baseball Went to War Conference in New Orleans, November 2007.
(photo courtesy of Bill Swank)
Created July 15, 2006. Updated November 26, 2013.
Copyright © 2015 Gary Bedingfield (Baseball in Wartime). All Rights Reserved.