Al Brancato
Date and Place of Birth: May 29, 1919 Philadelphia, Pennsylvania
Baseball Experience: Major League
Position: Shortstop
Rank: Store Keeper Second Class
Military Unit: US Navy
Area Served: Pacific Theater of Operations
Major League Stats: Al Brancato on Baseball-Almanac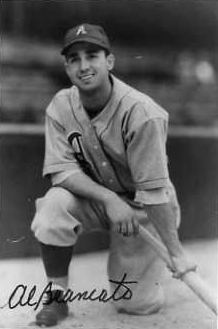 Albert "Al" Brancato lettered in four sports at South Philadelphia High School (baseball, football, gymnastics and basketball) and participated on four championship teams. He signed with the Philadelphia Athletics at age 18 and led the Eastern League in RBIs in 1939. Brancato played third base and shortstop with the Athletics from 1939 to 1941 and was known to have one of the strongest arms in the American League.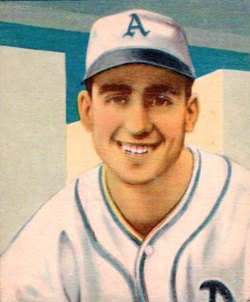 At one stage it was rumored that Brancato had been given a special deal by the Navy in return for enlisting shortly after Pearl Harbor. Apparently, Brancato would be assigned to a Navy supply store in Philadelphia, allowing him to continue playing with the Athletics. The Naval recruiting office in Philadelphia vehemently denied this. "Contrary to popular reports," it stated, "Brancato is going into the Navy to fight." The Navy also stated that to Brancato's everlasting credit, he asked for active service and he would get it.
Brancato served in the Pacific on the heavy cruiser USS Boston (CA-99). He then embarked on a tour of the Pacific with the Navy's Fifth Fleet baseball team including stops at the Marshall Islands, Guam, Saipan, Palau and Leyte. After the Western Pacific Tour, Brancato was sent to Tinian, where he organized boxing matches in addition to his storekeeper duties.
He later served as athletic specialist at the Philadelphia Navy Yard.
Brancato returned to the Athletics at the end of 1945 after nearly four years in military service. He was sold to Toronto in the International League during the winter and never returned to the majors. He also played with Louisville and St Paul from 1946 to 1949.
Brancato later managed Elmira in Eastern League for the Dodgers and also coached St Josephs College baseball team. Brancato was elected to the South Philadelphia High School Hall of Fame and Delaware County Chapter of the Pennsylvania Sports Hall of Fame.
Thanks to Al Brancato for help with his biography.
Created April 13, 2007.
Copyright © 2015 Gary Bedingfield (Baseball in Wartime). All Rights Reserved.