Go on, why not sponsor this page for $5.00 and have your own message appear in this space.


Click here for details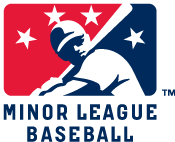 Gordon Bradshaw
Date and Place of Birth: August 1916 Niagara Falls, New York
Died: August 28, 2003 Seneca, Missouri
Baseball Experience: Minor League
Position: Pitcher
Rank: Corporal
Military Unit: US Marine Corps
Area Served: European and Pacific Theater of Operations
Bob Feller, former Cleveland fireballer, registered 13 strikeouts in a six-inning contest today and blanked the Quantlco, Va., marines with two hits but his Norfolk training base teammates also were whitewashed by Gordon Bradshaw, a left-hander, and their exhibition terminated in a scoreless tie.
Associated Press July 26, 1942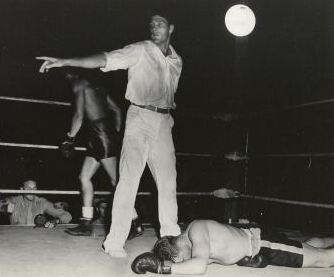 Gordon Bradshaw referees a
Marine Corps boxing match in 1942.
Gordon T "Lefty" Bradshaw, was a minor league pitcher who began his playing career with Lake Charles of the Evangeline League in 1936 where he had a 2-13 record. With St Augustine of the Florida State League in 1937, Bradshaw was 15-10 with a 2.86 ERA. He was with the Anniston Rams of the Southeastern League in 1938 and 1939, and hurled for Anniston, Clarksdale and Waterloo in 1940 before entering military service with the Marine Corps.
In July 1942, Bradshaw was a private in the Marines and pitched for the Quantico Marine Base against Bob Feller's Norfolk NTS team. It was a memorable performance as Bradshaw allowed just four hits and held the Navy team to a six-inning scoreless tie. A crowd of 18,000 watched the battle between the service teams, staged as part of a gala program with the entire proceeds to be donated to the Red Cross and Naval Relief Society. The game was umpired by Babe Ruth and Larry MacPhail, president of the Brooklyn Dodgers.
In 1943, Bradshaw was serving at the US Navy Headquarters in London, England, and by 1945, Corporal Bradshaw was with the 1st Marine Division in the South Pacific, where he continued to play baseball for the division team.
Bradshaw did not return to baseball after the war. He passed away on August 28, 2003 in Seneca, Missouri, aged 87.
Created July 15, 2006. Updated June 19, 2008.
Copyright © 2008 Gary Bedingfield (Baseball in Wartime). All Rights Reserved.