Cloyd Boyer
Date and Place of Birth: September 1, 1927 Duval Township, Missouri
Baseball Experience: Major League
Position: Pitcher
Rank: Unknown
Military Unit: US Navy
Area Served: United States
Major League Stats: Cloyd Boyer on Baseball-Almanac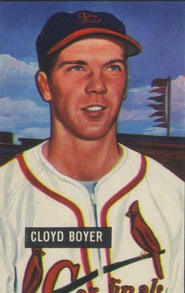 Cloyd V. Boyer was born on September 1, 1927 at
Duval Township, near Alba, Missouri
. The oldest of five brothers who would go on to play professional baseball, the Boyer brothers dominated the
Alba
High School
baseball team.
Boyer, who played shortstop on the school team, also played for the Alba Aces in the Cardinal Junior League and signed as a pitcher with the St Louis Cardinals in 1945. He played for Johnson City in the Appalachian League and was 4-7, before joining the Navy.
Boyer served in the United States until mid-1946, when he returned to baseball with Carthage in the K-O-M League. With Duluth of the Northern League in 1947, he was 16-9 with a 2.45 ERA and an all-star selection. Boyer moved up to Houston in the Texas in 1948 and was 16-10 with a 3.15 ERA.
The 6-foot-1, right-hander joined the Cardinals in 1949 and made his major league debut on April 23. He made four brief appearances in St Louis before being assigned to Rochester in the International League, where he continued to develop and was 15-10 with a 3.13 ERA.
Boyer was with the Cardinals again for 1950 as a starter-reliever and was 7-7 with a 3.52 ERA in 36 appearances. He remained in St Louis through 1952, and returned to the minors with Houston in 1953. He was with Rochester in 1954 and was drafted by the Kansas City Athletics for 1955, making his return to the majors for 30 appearances and a 5-5 record.
Boyer continued to pitch in the minors until 1961, spending the last five seasons with Indianapolis in the American Association where he won 44 games against 37 defeats.
Boyer was a coach for the Richmond Virginians in 1962. He was the New York Yankees minor league pitching coach in 1963-1964 and again from 1974 to 1976. He scouted for the Yankees from 1964 to 1974, and replaced minor league managers in mid-season in 1962, 1963, and 1968. He was a major league coach for the Yankees in 1977), the Atlanta Braves from 1978 to 1981 and the Kansas City Royals in 1982 and 1983. Boyer returned to managing in the Toronto Blue Jays' organization in 1986 and the Braves' organizations in 1988 and 1989.
Created December 16, 2007.
Copyright © 2015 Gary Bedingfield (Baseball in Wartime). All Rights Reserved.