Date and Place of Birth: New Orleans, Louisiana September 20, 1908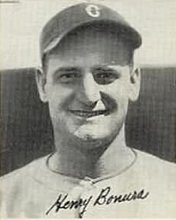 Henry J "Zeke" Bonura was born in New Orleans, Louisiana, on September 20, 1908. When he was just 16 years old, Bonura won the 1925 National AAU Championship in the Javelin Throw - his record mark of 213 feet stayed on the books until 1930.
The 6-foot, right-handed hitting first baseman was the Texas League MVP with the Dallas Steers in 1933. At age 25, he was with the White Sox in 1934 and batted .302 with 27 home runs and 110 RBIs.
In 1938, Bonura was traded to the Senators for Joe Kuhel and despite having hit 101 home runs in five seasons, he was known mostly for his poor defensive work.
By 1941, Bonura was back in the minors and was leading the American Association in hitting while playing for the Minneapolis Millers as a Cubs' farmhand. But in September he entered military service with the US Army at Camp Shelby in Hattiesburg, Mississippi. For three months he served as a physical instructor until, on December 5, 1941, he was honorably discharged after Congress released men aged 28 years and older from service.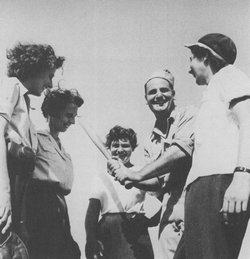 On January 8, 1942, following the Japanese attack at Pearl Harbor, he was instructed to report to Camp Shelby. I might as well kiss baseball goodbye now, " he told the press. "It will be bullets for the Japanese instead of big league baseball for me."
During the winter months at Camp Shelby, Bonura organized wrestling, boxing and basketball events. When the spring came around he began to think about baseball, even though Camp Shelby did not have a ballfield at the time. "I got down on my hands and knees with these other fellows," he told sportswriter, Elliott Chaze, "and picked up rock for rock, for over a week, to clear the infield."
Bonura then contacted his hometown New Orleans Pelicans and acquired their old uniforms for his players. By the summer he had four leagues running at Camp Shelby, and earned promotion to corporal.
In the spring of 1943, Bonura was sent to Oran in Algeria, where he continued to organize baseball leagues as well as softball leagues for male and female service personnel. By the end of the summer Bonura had set-up 20 baseball diamonds with salvaged materials and supervised 150 teams in six leagues, involving nearly 1,000 players. The culmination of the season was the World Series of North Africa between the Casablanca Yankees and the Algiers Streetwalkers. The Yankees were crowned North African champions.
For his contributions to the morale of the armed forces in North Africa, General Dwight D Eisenhower presented Bonura with a Legion of Merit Award on October 26, 1943. His citation read, in part: "By his resourcefulness, enthusiasm and leadership [Bonura] was able to overcome many shortages in needed assistance and construction materials, and he established twenty baseball fields in the area through the use of volunteer assistants and salvaged materials."
In the winter months he organized football and basketball games, and on January 1, 1944, he staged the Arab Bowl, played in San Philipe Stadium in Oran in which the Army defeated the Navy 10-7. Bonura followed the advancing Allied forces into Europe and he continued to organize and promote baseball events for the benefit of the troops. "I didn't play much," Bonura later recalled, "just a little bit with a headquarters team. I wasn't there to play ball, but to have the GIs play, keep the fellas busy till they got up to the front line."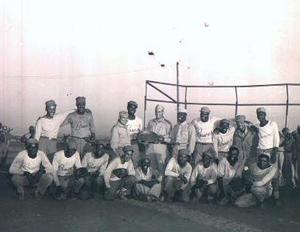 Bonura with the Negro championship team in
North Africa
"When the runs, hits and errors of this war are totaled up," wrote Al Schacht - the Clown Prince of Baseball - in GI Had Fun, "and they look around for unsung heroes of the ball game, I'm sure they'll pin a medal on the broad chest of Zeke Bonura. What he has done for the morale of the American soldier can never be fully revealed except by the GI himself."
Bonura attempted a comeback in 1946 at the age of 37, catching on briefly with Minneapolis and then with the Thibodaux Giants in the Evangeline League. He continued to play in the minors until 1949 when he was 43 years old.
Zeke Bonura passed away on March 9, 1987. He was 78 years old.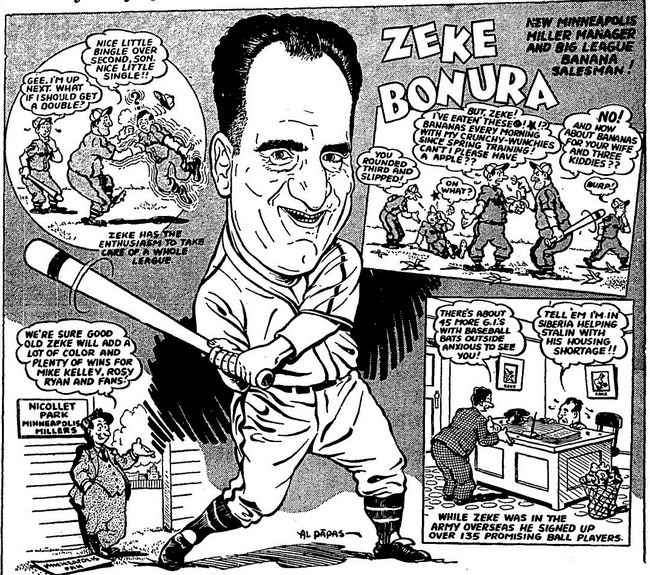 Some of the above information was obtained from S Derby Gisclair's biography of Bonura on BaseballLibrary.com
Created January 14, 2007. Updated March 7, 2008.
Copyright © 2015 Gary Bedingfield (Baseball in Wartime). All Rights Reserved.