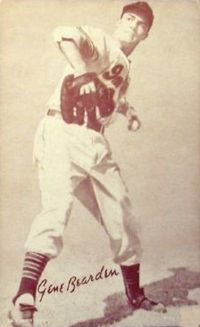 Henry E "Gene" Bearden was born in Lexa, Arkansas on September 5, 1920. Because his father was a machinist with the Missouri Pacific Rail Road, Bearden moved frequently and finished high school in Memphis, Tennessee, where he played first base.
Bearden signed as a pitcher with the Philadelphia Phillies organization in 1939 and was assigned to the Moultrie Packers of the Georgia-Florida League. He had a 5-11 won-loss record his rookie year and joined Miami Beach of the Florida East Coast League in 1940 where he was 18-10 with a league-leading 1.63 ERA and circuit-best five shutouts. In 1942, Bearden was 17-7 with Miami Beach then joined Savannah and Augusta of the South Atlantic League in 1942.
Bearden entered service with the Navy in 1942. He was at Great Lakes NTS and attended machinist school prior to being assigned to the engine room of the light cruiser USS Helena (CL-50).
During the battle of Kula Gulf in the Solomons on July 6, 1943, the Helena was hit by a torpedo - minutes later she was hit by two more. As the crew abandoned ship, Bearden fell from a ladder on to the deck and knocked unconscious. He was picked up by a destroyer and returned to the United States. Of the Helena's nearly 900 crew, 168 perished.
Bearden's right kneecap was crushed beyond repair, the ligaments in his leg were badly twisted and his skull had been fractured. An aluminum cap and screw was placed in his leg and another plate in his head. He remained in hospital until receiving a medical discharge in early 1945.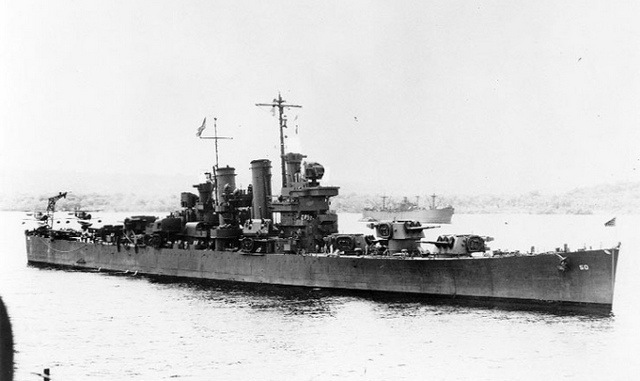 USS Helena (CL-50)
He reported to Binghamton of the Eastern League that season where his left-handed knuckleball produced an impressive 15-5 record with a 2.41 ERA. In 1946, he was 15-4 with Oakland of the Pacific Coast League and made his major league debut for the Cleveland Indians on May 10, 1947. Bearden had a career-year with Cleveland in 1948 winning 20 games and losing just 7. His 2.43 ERA was best in the American League and he beat the Red Sox in a one-game playoff for the league crown. The 28-year-old pitched two games in the World Series against the Braves, including a 2-0 five-hitter in Game Three.
Unable to repeat his previous performance, Bearden slumped to 8-8 in 1949 and was 1-3 when the Indians traded him to Washington on August 2, 1950. He was picked up by the Tigers at the beginning of 1951, pitched for the Browns in 1952 and ended his major league career with the White Sox in 1953.
Bearden was back in the Pacific Coast League in 1954, pitching for Seattle. He was with San Francisco in 1955 (where he was 18-12) and Sacramento in 1956 and 1957.
"I don't know what happened." Bearden said back in 1967 while trying to explain his one year phenom. "Maybe Casey Stengel was right when he said they'd stop swinging at my low pitch. But there's no use looking back. You can't live in the past."
He later worked as manager for the Helena, Arkansas, Country Club and Golf Course while coaching the American Legion team. Bearden would then own a restaurant and work as general manager for Plaza Auto Sales in West Helena.
Gene Bearden passed away on March 18, 2004 in Alexander City, Alabama. He was 83.
Thanks to Ken Sulik and Walter Kephart for help with this biography.