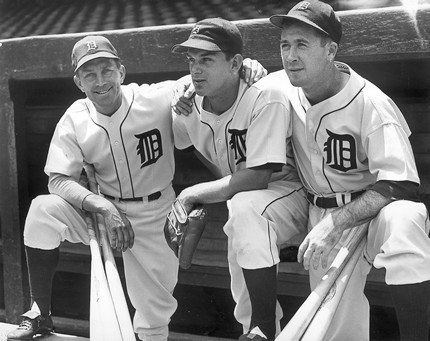 Dick Bartell (left) with Barney McCosky and Birdie Tebbetts
Richard "Dick" Bartell was born on November 22, 1907 in Chicago, Illinois. He played for the Bridgeport Bears of the Eastern League in 1927 and made his major league debut – aged 19 - with the Pittsburgh Pirates against Cincinnati on October 2 – the last day of the season. Bartell was zero-for-two at the late but drew two base on balls and perfectly handled five chances at shortstop.
In 1928, Bartell platooned with Glenn Wright, and became the Pirates' regular shortstop the following season. Bartell quickly established himself as a hard-nosed, hard-hitting player, whose aggressive nature earned him the nickname "Rowdy Richard."
He was traded to the Phillies in 1931 and was the National League's starting shortstop in the first ever All-Star game in 1933. He was traded to the Giants in 1935, where he enjoyed some of his best years including the 1937 pennant-winning season when he batted .306 and was a National League all-star selection.
Bartell was traded to the Cubs in 1939 and then to the Tigers the following season. The Tigers released the 33-year-old shortstop in May 1941 and he was picked up again by the Giants, where he switched to third base and batted .303.
Bartell remained with the Giants and had a very productive season in 1943, appearing in 99 games and batting .270. He entered military service with the Navy on April 17, 1944, and took boot training as an apprentice seaman at Camp Farragut, Idaho. Bartell was reunited with former teammate Glenn Wright at Camp Farragut. Wright was serving as an instructor at the quartermaster school and had been in the Navy since 1942.
Bartell was later assigned to the Naval Training Center at Bainbridge, Maryland, where he was one of four major league shortstops vying for playing time on the Commodores ball team. The others were Giants teammate Buddy Blattner, Ray Hamrick of the Phillies, and Freddie Chapman of the Athletics.
In September 1944, after completing an eight-week course in physical instruction at Bainbridge, Petty Officer Third Class Bartell reported to Treasure Island, California. Thinking ahead to the 1945 baseball season for the Treasure Island team, Bartell attended the Pacific Coast League meetings in January, trying to organize games for his team. "Baseball," Bartell explained at the time, "stiffens morale and helps keep the gobs from running over to the mainland where they might get too familiar with cocktail bars and such."
He was successful in securing a number of games, which included a 6-5 win over the Los Angeles Angels on June 28, in which Bartell figured in four double plays.
Bartell was 38 years old when he was discharged from service on October 5, 1945, but figured he still had a role to play in baseball as a utility man or pinch hitter. He rejoined the Giants but appeared in just five games before he was released
.
Bartell remained in baseball for a number of years as a minor league manager. He was inducted into the San Francisco Bay Area Sports Hall of Fame in 1993.
Dick Bartell passed away on August 6, 1995, at a convalescent hospital in Alameda, California, following a battle with Alzheimer's disease.
Created February 18, 2008.