This page is dedicated in loving memory of Darrell W. Heath. He will be remembered always.


Darrell Heath
Date and Place of Birth:
July 6, 1923 Chicago, Illinois
Died: March 18, 1994 Chicago, Illinois
Baseball Experience: Semi-Pro
Position: Outfield
Rank: Private
Military Unit:
L Cpy, 3rd Battalion, 8th Regiment, 2nd Marine Division
Area Served: Pacific
Theater of Operations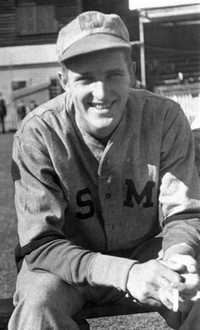 For most of his life, Darrell W. Heath was engrossed with the game of baseball.
In the late 1930's or early 1940's Heath played outfield for the Chicago Mills Semi-Pro baseball club of Chicago, Ill. Around that time, he was invited to Wrigley Field to try out for the Chicago Cubs.
Shortly after, on Jan. 3, 1942, Heath enlisted in the United States Marine Corps, just as many other patriotic Americans. While his quest to play professional baseball was interrupted, Heath believed serving his country in World War II was a greater calling.
After training in California, Heath shipped out to New Zealand with the rest of the 2nd Marine Division. He spoke very highly of the New Zealanders who treated the U.S. Marines well during the time they were based in their communities.
While in New Zealand, Heath played on a U.S. Marine Corps baseball team. On March 5, 1943, he competed in an exhibition game at Athletic Park in Wellington, New Zealand. Over 25,000 fans attended the game. Heath said the New Zealanders were unfamiliar with the game, and he remembers fans cheering routine plays such as high fly balls, and booing home runs as play was halted while the ball was retrieved from the stands.
On Oct. 18, 1943, Pvt. Heath embarked on the USS Monrovia and sailed to Efate, New Hebrides. There, he and the rest of the 2nd Division conducted practice-landing operations.
On Nov. 13, Pvt. Heath again embarked on the USS Monrovia. His ship arrived at a location off the coast of Tarawa Atoll on Nov. 20, 1943. Late that morning, Pvt. Heath's 3/8 Marines were ordered to land on the island of Betio. By all accounts, the landing was very difficult and a multitude of casualties were endured.
Pvt. Heath made it to the beach that day and spent the rest of the night fighting beside his fellow Marines. On Nov. 21, the second day of the battle, Pvt. Heath was wounded in action. He was eventually evacuated to a Naval hospital in Hawaii where he recovered from his wounds. On May 31, 1944, Pvt. Heath was honorably discharged from the U.S. Marine Corps.
Upon returning to Chicago, Heath was again called to a Major League tryout, this time, for the Chicago White Sox at Comiskey Park. He enjoyed the experience, but age 23, was thought to be too old to develop in time to contribute to the big league club. He was not offered a contract.
However, Heath continued to enjoy baseball well after his playing days ended. He instilled his love for the game in his three grandsons. He gave tips, hit groundballs, flyballs and tossed batting practice to them at a park near his Chicago home. Heath also attended many youth baseball games to support his grandsons, two of which enjoyed successful college baseball careers, and one who created his own recreational baseball league. Within them, Heath's love of baseball endures.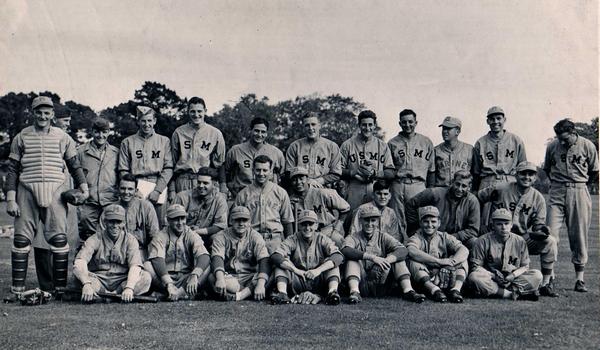 USMC team in New Zealand (Darrell Heath is back row, fifth from left)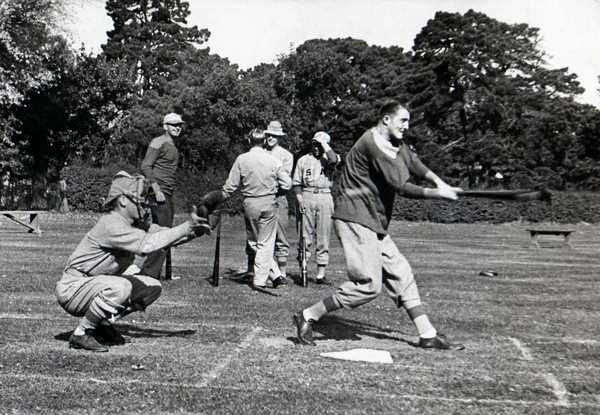 Darrell Heath taking batting practice in New Zealand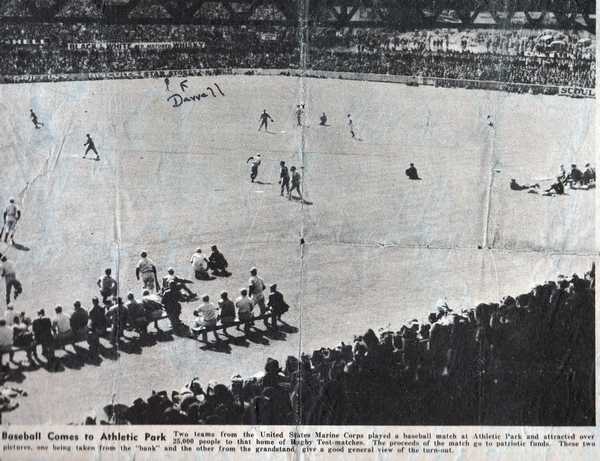 Newspaper clipping from a game played in New Zealand before a crowd of 25,000
Darrell's biography was written by his grandsons Jason and Matt Veto.
Created September 27, 2009.
Copyright © 2015 Gary Bedingfield (Baseball in Wartime). All Rights Reserved.