Go on, why not sponsor this page for $5.00 and have your own message appear in this space.


Click here for details




Leon Day
Date and Place of Birth: October 30, 1916 Alexandria, Virginia
Died:
March 14, 1995 Baltimore, Maryland
Baseball Experience:
Negro League and Minor
League
Position:
Pitcher
Rank:
Unknown
Military Unit:
818th Amphibian Battalion
US Army
Area Served:
European Theater of Operations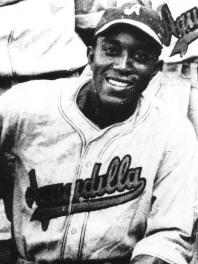 Leon Day was born on October 30, 1916 in
Alexandria, Virginia
. The Day family moved to
Baltimore
in 1917 when he was 6 months old. His father worked in the segregated community of
Westport
and the family lived on
Pierpont Street
in
Mount
Winanas
in a house that had no electricity or running water.
After two years at
Frederick
Douglass
High School
, Day left to play semi-pro baseball with the Silver Moons. At 17, he joined the Baltimore Black Sox, but financial troubles soon caused the team to disband and he joined the Brooklyn Eagles. In his first season with the Eagles, Day was 9-2 and hurled a one-hitter.
The Eagles relocated to Newark in 1936, and the following season he compiled a perfect 13-0 record while batting .320. Day had established himself as a star of the Negro Leagues as well as turning in outstanding performances in Mexico and Puerto Rico.
The 1942 East-West all-star game played in Chicago was a classic showdown between Satchel Paige and Leon Day. Both pitchers entered the game in the seventh inning with the score tied at 3-3. Day struck out five of the first seven batters he faced and held the West team scoreless while Paige allowed three runs to take the loss.
In 1943, Day was 4-5 and batted .304 for the second from last-placed Eagles. It was his last season in professional baseball for three years. The Army drafted 26-year-old Day on September 1, 1943. He served with the 818th Amphibian Battalion in Europe and was at Utah Beach on D-Day.
When the war in Europe ended, Day was in France along with fellow Negro Leaguers Johnny Hayes, Max Manning, Charlie Parks and Willard Brown. Day and Brown were both selected to play with the integrated OISE All-Stars baseball team run by Phillies' pitcher Sam Nahem
.
The All-Stars – on paper a mismatch of minor league, Negro league and semi-pro players – breezed through the opposition and reached the ETO World Series championship finals where they faced the formidable 71st Infantry Division representing the Third Army. The 71st Infantry line-up featured Ewell Blackwell, Harry Walker, Johnny Wyrostek and Maurice Van Robays.
Before a crowd of 50,000 at Nuremberg Stadium in Germany, undoubtedly the biggest crowd to see a baseball game in Europe during WWII, Ewell Blackwell of the 71st easily defeated Bob Keane of the OISE All-Stars, 9-2.
But Game Two, with Leon Day on the mound was a different story. Day allowed just four hits and struck out ten to lead the All-Stars to a 2-1 victory and even the series at one game apiece.
The All-Stars clinched Game Three by a score of 2 to 1 with Sam Nahem on the mound and Day came back to pitch Game Four. This time, however, he was not as successful, beaten by the 71st, 5-0.
Nevertheless, the All-Stars clinched the series in the final game on September 8. Sam Nahem and Bob Keane combined for the 2-1 win.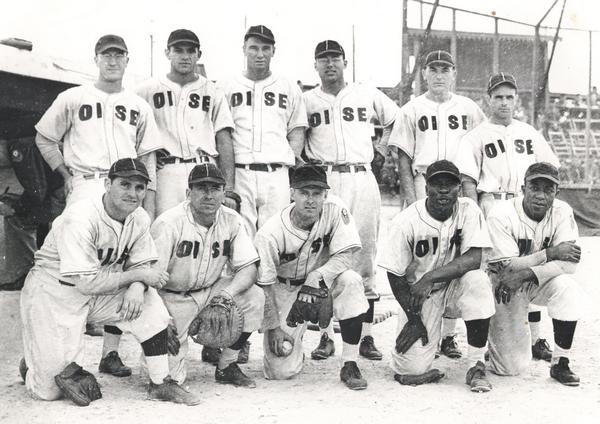 OISE All-Stars - ETO Champions 1945 (Leon Day is front row, far right)
Day was discharged in February 1946 and returned in style to the Newark Eagles in May. He hurled an opening day 2-0 no-hitter against the Philadelphia Stars. Day faced only 29 hitters and struck out six. "Day dazzled the Stars with his speedball," wrote the Baltimore Afro-American on May 11, 1946, "allowing only three to reach first base, one on a walk and two on errors by teammates."
He finished the season with a 14-4 record, and led the league in strikeouts, innings pitched, and shutouts, as the Eagles cruised to the Negro National League title. Unfortunately, Day came up with a sore arm towards the end of the season. With the Polo Grounds full of major league scouts, the 30-year-old was ineffective in his only World Series appearance against the Kansas City Monarchs.
In 1947, the year Jackie Robinson broke the color line in Major League baseball, Day played for the Mexico City Red Devils of the Mexican League. He was 10-11 on the mound and batted .359. He was back with the Red Devils in 1948 and posted an 8-9 record and 4.34 ERA. He continued to play in the Mexican League in 1948 but returned to the Negro National League in 1949 to help the Baltimore Elite Giants win the pennant.
Day went to Canada to play for the semi-pro Winnipeg Buffaloes of the Man-Dak League in 1950. Then, in 1951, aged 34 and well past his prime, he entered organized baseball, pitching for Toronto of the International League. He also pitched for Scranton of the Eastern League in 1952 and compiled a 13-9 record and 3.41 ERA.
Day returned to Canada in 1953 to play for the Brandon Greys in the Man-Dak League. He ended his career with the Greys in 1955.
"People don't know what a great pitcher Leon Day was," says Monte Irvin. "He was as good or better than Bob Gibson. He was a better fielder, a better hitter, could run like a deer. When he pitched against Satchel, Satchel didn't have an edge. You thought Don Newcombe could pitch. You should have seen Day! One of the best complete athletes I've ever seen."
On March 7, 1995, the Veteran's Committee elected Leon Day to the Baseball Hall of Fame. He was the 12th Negro League star elected. Leon Day had been admitted to St Agnes Hospital in Baltimore with a heart condition a few days earlier and died on March 14, aged 78.
"It is rare that you find an individual with talent, ambition and humility," declared the Honorable Kweisi Mfume in the House of Representatives on March 15, 1995. "But those are just some of the defining and wonderful qualities of Leon Day, one of Baltimore's true heroes."
In 2001, Day's widow, Geraldine Day, founded the Leon Day Foundation in Baltimore, Maryland, to assist at-risk youth by providing opportunities for them to participate in organized sports.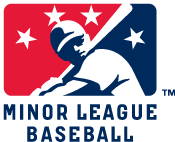 Created January27, 2008.
Copyright © 2008 Gary Bedingfield (Baseball in Wartime). All Rights Reserved.

Baseball in Wartime Store

Visit the Baseball in Wartime Store for
t-shirts, sweatshirts and more...

click here