Date and Place of Birth: August 29, 1920 Hahnville, Louisiana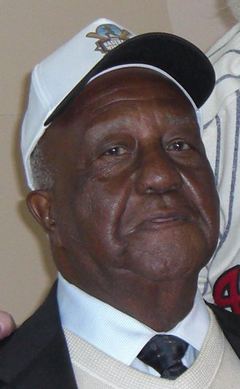 Herb grew up in Algiers, Louisiana and played baseball at a playground in Gretna. He was spotted by the Homestead Grays of the Negro National League but was drafted by the Army before he could report to the team.

<![if !supportEmptyParas]> <![endif]>

Simpson was inducted in the Army at Camp Beauregard, Louisiana in November 1942 and took infantry training at Cheyenne, Wyoming. He was assigned to a quartermaster company and arrived in Scotland in 1944, where he was the first man off the ship and was required to kneel down and kiss the ground!

<![if !supportEmptyParas]> <![endif]>

While stationed in England, Simpson was the only African-American on an all white baseball team that played in the Battle League.

He later served as a dispatcher for his company in mainland Europe, which ran a "Red Ball Express" operation.

<![if !supportEmptyParas]> <![endif]>

Simpson returned home and was discharged in February 1946. He signed a pro contract with the Negro League Birmingham Black Barons and also played for the Seattle Steelheads in the short-lived Negro Pacific Coast League.

In 1947, he joined the Harlem Globetrotters baseball team and also played for the Chicago American Giants. He played minor league baseball with Albuquerque in the West Texas-New Mexico League in 1952 and also joined the Spokane Indians after many of their players lost their lives in a tragic bus accident.

Simpson returned to Albuquerque in 1953 where he batted .372 with 59 RBIs and retired from the professional game after the 1954 season.

<![if !supportEmptyParas]> <![endif]>

Simpson returned to New Orleans where he played semi-pro baseball with the New Orleans Creoles.

Recently, he was honored two years in a row by the Seattle Mariners on their African-American Heritage Day.

<![if !supportEmptyParas]> <![endif]>

Herb Simpson passed away at a hospital in New Orleans on January 7, 2015. He was 94.

Herb Simpson participated in the salute to baseball in World War II entitled Duty, Honor, Country: When Baseball Went to War on November 9 – 11, 2007 at the National WWII Museum in New Orleans.
Created November 17, 2007. Updated January 10, 2015.