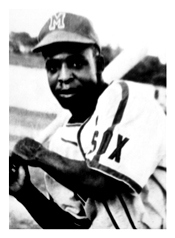 Joseph B "Joe" Scott Scott was an outfielder whose career in the Negro Leagues spanned 20 years. A leadoff hitter, Scott played with the Chicago American Giants, New York Black Yankees, Pittsburgh Crawfords and the Memphis Red Sox. He had played at Wrigley Field on a high school team in Chicago, earning the distinction as the first black to play at Wrigley.
He was given an engraved baseball bat by his teammates on the Memphis Red Sox in 1942 congratulating him for an astonishing .714 batting average during a season cut short when he entered the Army.
Scott served as a staff sergeant. While based at Wright Field, Ohio, he played baseball for the Wright Field Kitty Hawks against the Pittsburgh Pirates in 1944. Scott later served in Europe with the 350th Field Artillery, 46th Brigade of the US Army. He returned to baseball after receiving his discharge and retired in 1956 to become a truck driver.
Joe Scott is now 86 years old and lives in Memphis, Tennessee. He was "drafted" by the Milwaukee Brewers in the Negro Leagues Player Draft, held prior to the Major League draft at Disney's Wide World of Sports Complex in Lake Buena Vista, Florida on June 5, 2008. Each Major League club drafted a surviving former Negro Leagues player, who represented every player who did not have the opportunity to play baseball in the major leagues.