Go on, why not sponsor this page for $35.00 and have your own message appear in this space.


Click here for details



Those Who Died That Others Might Be Free



Joe Pinder
Date and Place of Birth: June 6, 1912 McKees Rock, Pennsylvania
Date and Place of Death: June 6, 1944 Normandy, France
Baseball Experience: Minor League
Position: Pitcher
Rank: Technician 5th Grade
Military Unit: HQ Company, 16th Infantry Regiment, 1st Infantry Division, US Army
Area Served: European Theater of Operations
"Almost immediately on hitting the waist-deep water, he was hit by shrapnel. He was hit several times and the worst wound was to the left side of his face, which was cut off and hanging by a piece of flesh."
Second Lieutenant Lee Ward W Stockwell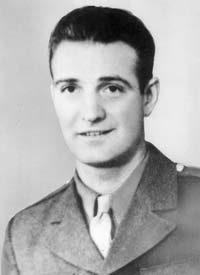 John J. "Joe" Pinder, Jr., a stocky right-hander, was born in McKees Rocks, Pennsylvania, an industrial suburb of Pittsburgh along the west bank of the Ohio River.

His father worked in the steel mills and the family moved around the state wherever work could be found. By 1929, they were in Butler and Joe graduated from Butler High School in 1931. Pinder then played sandlot baseball until signing with the Butler Indians, a new entry in the Class D Pennsylvania State Association in 1935. He made eight appearances for the Indians for a 3–2 record and 3.33 ERA. In 1936, Butler became a Yankees farm club and consequently changed its name to the Butler Yankees. Pinder was released by the club in early May and pitched for the semi-pro Sterling Oils of Emlenton, Pennsylvania.

In 1938, Pinder decided to give professional baseball another go and successfully tried out for the Sanford Lookouts of the Class D Florida State League, a Chicago White Sox affiliate. The Lookouts spent the season in the basement and Pinder was the workhorse of the mound staff. He finished the year with a 9–18 won-loss record and lost 10 games in a row, but high points were a one-hitter against St. Augustine on June 30 and another against DeLand on July 29. "Pinder has a lot of stuff and his curve ball is dreaded by the other clubs in the league," declared the Sanford Herald. "His fast ball comes in very handy after he slips a curve ball by and it hops and travels with more speed than one of an average hurler. The youngster has the stamina and courage to make a big leaguer some day and he takes his work very seriously."

Pinder was back with the Lookouts in 1939, and with former American League batting champion Dale Alexander as manager, he enjoyed the best season of his career. As part of a starting rotation that included future major leaguers Sid Hudson and Harry Dean, Pinder posted a 17–7 won-loss record and 3.92 ERA as the team cruised to the league title (Hudson was 24–4, while Dean was 21–4). Pinder began his third year with Sanford in 1940. The team had ended its affiliation with the White Sox in 1939, and now operated independently changing its name to the Seminoles, and on May 13, he left the club to join the Macon Peaches of the South Atlantic League, a Class B circuit and the highest classification he would play at. His time at Macon, however, was short-lived as he returned to Florida and joined the Fort Pierce Bombers of the Class D Florida East Coast League in June. The Bombers finished 221⁄2 games out of first place and Pinder had a 4–12 won-loss record despite a 3.79 earned run average.

Pinder spent the winter months of 1940-1941 in Pennsylvania with his parents and registered for the selective service while there, returning to Fort Pierce for spring training.

"Joe Pinder, the stocky, square-set little Pennsylvanian with the blinding fast ball," wrote the Fort Pierce News-Tribune in February 1941, "is back in town and is ready for the ... 1941 baseball season." The Bombers were a better team in 1941, and Pinder was 11–9 with a 3.06 ERA when he was optioned in July to the Greenville Lions of the Class D Alabama State League. He was 6–2 in 10 appearances with the Lions and his ERA was a career-low 2.48. On August 18, he performed the unusual task of starting both games of a doubleheader, throwing a shutout in the opener and receiving a no-decision in the second game. On August 28, 1941, Pinder hurled what was to be his last professional game, a 7–1 win over the Tallassee Indians.

Pinder entered military service on January 27, 1942; two days before his younger brother, Harold, entered service with the Army Air Force. Joe Pinder received basic training with the Army at Camp Wheeler, Georgia; Fort Benning, Georgia; and Fort Indiantown Gap, Pennsylvania, before leaving for England with the 16th Infantry Regiment, 1st "Big Red One" Infantry Division. In November 1942, the division left England and took part in the Allied landings of North Africa at Algeria and the battles against Rommel's Afrika landings on Gela in Sicily, and then slogged through the island's mountains where some of the heaviest fighting of the Sicilian campaign took place.

By November 1943, Technician Fifth Grade Pinder was a one-year combat veteran back in England preparing for D-Day, the Allied invasion at Normandy. Meanwhile, brother Harold, now a first lieutenant and a bomber pilot with the 44th Bomb Group which was also stationed in England, was shot down on a raid over Europe on January 29, 1944. With the help of the Belgian Resistance he managed to avoid capture until April when he was rounded up by German troops and spent the remainder of the war at Stalag Luft III.

On the morning of June 6, 1944, the 16th Infantry Regiment was in the first wave of troops to assault the beaches at Colleville-Sur-Mer, more commonly known as Omaha Beach. Joe Pinder was aboard a landing craft of men from the regiment's Headquarters Company. For Pinder it was a special day—his birthday. He was 32.

As the landing crafts approached the beach the Germans opened fire with artillery, mortars and machine-gun fire. An artillery shell exploded close to Pinder's landing craft, tearing holes in the boat and causing carnage among the men inside. For those that survived, Pinder included, panic set-in as the vessel filled with water and began to sink. Still 100 yards from the beach the ramp was dropped and they were instantly met with a hail of deadly accurate machine-gun and small arms fire, killing many outright as they struggled to reach the shore. As in baseball, Pinder took his work very seriously, and despite the chaos, he was determined to do what he was there for—to ensure vital radio equipment made it to the beach so a line of communication could be established. He grabbed a radio and placed it on his shoulder and amid the deafening sound of gunfire, made his way down the ramp and into the waves.

With the air filled with small arms fire and exploding artillery it was only a matter of time before Pinder was hit. As he desperately waded through the water, a bullet clipped him, causing him to stumble, but he did not stop. Another bullet ripped through the left side of his face and he held the gaping flesh in place as he carried on. Pinder made it to the beach, dropped the radio and returned to the water to retrieve more equipment. Then, instead of looking for somewhere to protect himself from the relentless enemy barrage, he returned a third time to collect essential spare parts and code books. Again he was hit as a burst of machine gun fire tore through his upper body. He fell, then somehow struggled to his feet, and with his last ounce of energy made it to the beach and his radio equipment. Moments later he passed out from loss of blood and died later that morning.

Joe Pinder had made the ultimate sacrifice in helping to establish vital radio communication on Omaha Beach.

On January 4, 1945, Pinder was posthumously awarded the Medal of Honor for conspicuous gallantry and intrepidity above and beyond the call of duty. The medal, the nation's highest award, was received by his father from Major General Philip Hayes, commanding officer of the Third Service Command. "The indomitable
courage and personal bravery of T/5 Pinder," claimed his citation, "was a magnificent inspiration to the men with whom he served."

Pinder was originally buried in Normandy, but his body was returned home in September 1947, and now rests at Grandview Cemetery in Florence, Pennsylvania, where a monument was erected in his honor in October 2000. Fifty-five years after his death, fourteen members of Pinder's family and many local dignitaries attended the ceremony.
On May 11, 1949, the U.S. Army barracks at Zirndorf, Germany, was renamed Pinder Barracks in his honor. Although the barracks have since been torn down, a business park known as Pinder Park now occupies the area.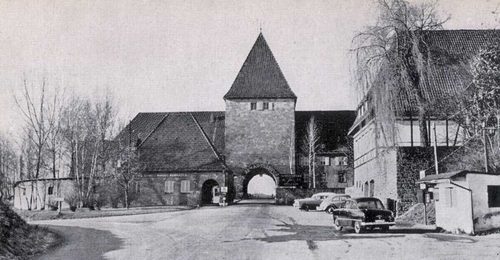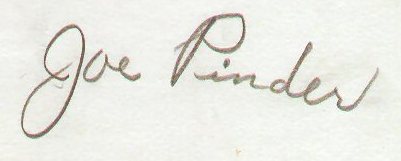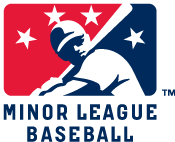 Thanks Steve for sharing the Joe Pinder signature above.
Added August 23, 2006. Updated January 22, 2011.
Copyright © 2011 Gary Bedingfield (Baseball in Wartime). All Rights Reserved.