For an Englishman, my enthusiasm for baseball may seem a tad strange. Baseball does not enjoy a big following in Britain, and yet I developed a passion for the American national pastime at a tender age. My interest in baseball begins with my father, who was born and raised in England but, as a musician, toured the American Air Force bases during the early 1960s. He developed a keen interest in baseball during this time by watching the Air Force teams play and participating in the occasional scratch games.
As I was growing up we would play catch with the gloves he had acquired from the military and I really got hooked at a very young age. By the time I was 12 I was playing in a competitive league and continued to do so for the next 20 years.
Most of those years I was a catcher with the Enfield Spartans - a team that reached the British finals every year from 1989 to 1994 and were British champions four of those years. I also played for the Great Britain national and Olympic teams, and coached varsity baseball at the American School in London. I am privileged to say I have played against such talented professionals as George Foster, Tug McGraw, Graig Nettles, Mark Fidrych and Luis Tiant.
Fleeting moments of my own achievements will always be with me, but more than anything I enjoy the things that make baseball so perfect - the ballfields with their lovingly maintained grass infield, the rich brown dirt base paths, and perfectly laid white lines; the thud of a fresh white baseball hitting a well-seasoned glove; and the grace and precision of my teammates as they execute with perfection seemingly impossible plays. There's no doubt about it - I love baseball.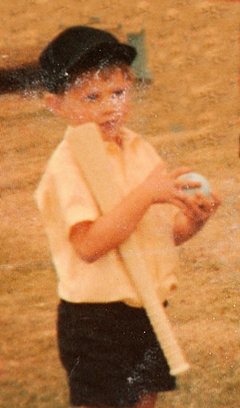 As you can see, I started playing
baseball at a young age
As my playing days came to an end, I developed an appetite for the history of the game, searching for links between baseball and my own country. I have always been interested in WWII history and it was in the mid-90s I was thinking about American servicemen in Britain during the war and wondering what their affiliation with baseball could have been. Were there any minor league players here? Maybe even a major league player or two might have passed through Britain
A little research showed that many ball players had indeed served and also played baseball in this country during the war. I'd had professional baseball on my doorstep, albeit half a century ago!
That was really the spark I needed. The amazing thing was no one had written about overseas military baseball in WWII. I began writing articles for Army magazine, Our State, Roanoker, Die Hard and Vintage and Classic Baseball Collector Magazine. This led to the publication of Baseball in World War II Europe by Arcadia Publishing in 2000. October 2008, sees the release of When Baseball Went to War by Triumph, a book I have heavily been heavily involved in since the WBWTW conference in New Orleans in November 2007.
The Baseball in Wartime website was initially launched in 2000 hosting player biographies and information relating to military games from WWII. In 2006, the site was relaunched - it now hosts in excess of 500 player biographies, feature articles, team rosters and game results.
I currently live in Erskine, near Glasgow, Scotland and run my own training company, Gary Bedingfield Training, delivering Train the Trainer courses and helping people of all ages to develop the skills needed to gain employment.
And, for the record, I'm a Dodgers' fan!
January 2010 radio interview with Gary Bedingfield
Gary Bedingfield's Written Work on Wartime Baseball
| | | |
| --- | --- | --- |
| Books | | |
| | | |
| Title | Publisher | Date |
| Baseball in World War II Europe | Arcadia Publishing | 2000 |
| When Baseball Went to War (contributing author) | Triumph | 2008 |
| Baseball's Dead of WWII: A Roster of Professional Players Who Died | McFarland | 2009 |
| | | |
| Magazines | | |
| | | |
| Title | Publication | Date |
| The Battle of Wembley | USA Softball Magazine | March/April1996 |
| Taking Baseball to War | Army | September 1996 |
| When Virginia Baseball Went to War | Roanoker | April 1997 |
| The Final Pitch | Our State | June 1998 |
| Everything to Live For: Remembering "Lefty" Brewer | Vintage and Classic Baseball Collector Magazine | July/Aug 1998 |
| Ambassadors of the Game | Army | August 1998 |
| Paul Campbell Played for the Love of the Game | Diehard | December 1998 |
| Until the Boys Came Home | Balls and Strikes | July/Aug 1998 |
| Yanks Touch Base and the City's Hearts | Bygones (Nottingham Evening Post) | July 3, 1999 |
| Baseball in Wartime Newsletter (monthly) | www.baseballinwartime.com | 2007 onwards |
| Baseball in the Military (contributing author) | Stars and Stripes Supplement | September 2008 |
Updated: May 12, 2020