Go on, why not sponsor this page for $5.00 and have your own message appear in this space.


Click here for details



Those Who Died That Others Might Be Free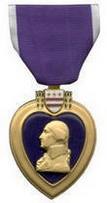 Victor Hartline
Date and Place of Birth: March 23, 1918 Buchanan, Michigan
Date and Place of Death: January 21, 1945 Luxembourg
Baseball Experience: Semi-Pro
Position: Unknown
Rank: Sergeant
Military Unit: Third Army US Army
Area Served: European Theater of Operations
Victor Hartline was born on March 23, 1918 in Buchanan, Michigan. Hartline attended New Troy High School and Western Michigan College.
Hartline later worked as a utility man for the National Standard Company in Niles, Michigan, and played for their baseball team. The talented young player became well-known in the local area and also played for Studebaker and the Knights of Pythias in South Bend. Hartline was due for a tryout with the Chicago Cubs when military service beckoned.
In 1944, he left behind his wife, Evelyn, and their young son, Ronald Lee, for service with the Army in Europe. On January 21, 1945 he was killed in action in Luxembourg.
Added September 19, 2006
Copyright © 2007 Gary Bedingfield (Baseball in Wartime). All Rights Reserved.