Go on, why not sponsor this page for $5.00 and have your own message appear in this space.


Click here for details



Those Who Died That Others Might Be Free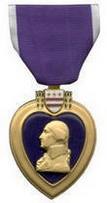 Jack Griffin
Date and Place of Birth: August 13, 1913 Wichita, Kansas
Date and Place of Death: February 19, 1945 Iwo Jima
Baseball Experience: College
Position: Unknown
Rank: Second Lieutenant
Military Unit: 4th Combat Engineer Battalion, 4th Marine Division USMC
Area Served: Pacific Theater of Operations
Second Lieutenant Jack J Griffin, who starred in football, baseball and basketball at the University of Kansas, was killed in action on Iwo Jima.
Fresno Bee March 17, 1945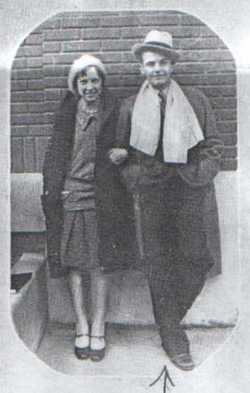 John J "Jack" Griffin Jr was born in Wichita, Kansas. His family moved to Iola, Kansas when he was 4 years old and his love of sports was passed on to him by his father. Jack Griffin Sr was an ardent sports fan and promoted amateur sports events of all types in the local area. His first love was baseball and he had much to do with the creation of several twilight leagues and softball clubs in Iola.
Jack Jr attended Iola High School where the Iola Register remembered him as "one of the most popular members of his class." He was an outstanding athlete in high school and graduated in 1930, and attending Iola Junior College in 1931. Griffin attended the University of New Mexico in 1932/33 and then transferred to the University of Kansas in 1934 where he excelled in baseball, football and basketball. He withdrew from Kansas in the Spring of 1937 and completed his degree at the University of Arizona's school of engineering the following year.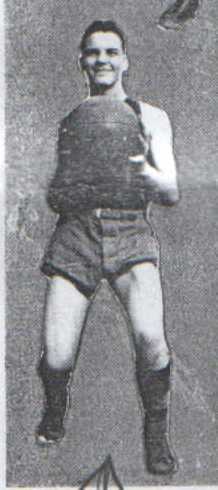 Griffin went to work for the Denver Customs House before joining the Marines on October 14, 1943. By the fall of 1944, Griffin was a second lieutenant and on his way to the Pacific, leaving his wife and their young daughter, Margaret, at the family home in Emporia, Kansas. In February 1945, he was preparing for the invasion of Iwo Jima to help secure the island for use as a base for long-range fighters to escort bombers on their missions to Japan.

Iwo Jima, 750 miles south of Tokyo, is the middle island of the three tiny specks of the Volcano Islands. Five miles long with Mount Suribachi at the southern tip, the island is honeycombed with excoriated volcanic vents. Hundreds of natural caves communicate with deep sulphur-exuding tunnels. Steep and broken gulleys cut across the surface, ragged sea cliffs surround it. Only to the south is there level sand, but it is fine, shifting, black pumice dust making the beaches like quicksand and rendering it impossible to dig a fox-hole when in need of cover.

The island was riddled with pillboxes, gun-pits, trenches and mortar sites and a three-day naval bombardment beginning on February 16 was intended to rid the island of much of its defense. But despite its enormity the bombardment had minimal effect.
Second Lieutenant Griffin was killed in action on February 19, 1945. He was 32 years old. Jack Griffin is buried at the Honolulu Memorial in Hawaii. His sacrifice is recognized at the University of Kansas, with his name listed in the Memorial Campanile and his name is included on the Veteran's Wall at Iola, Kansas.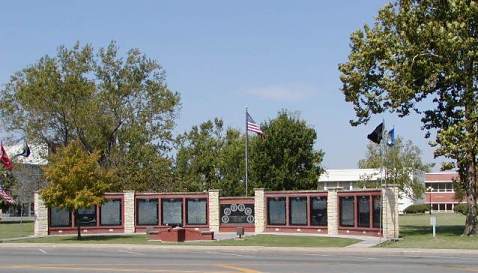 The Veteran's Wall at Iola, Kansas
Thanks to Becky Schulte at the University of Kansas, and Judy Thyer at the Iola Public Library for help with this biography.
Added September 27, 2006. Updated November 12, 2006.
Copyright © 2007 Gary Bedingfield (Baseball in Wartime). All Rights Reserved.