Go on, why not sponsor this page for $5.00 and have your own message appear in this space.


Click here for details



Those Who Died That Others Might Be Free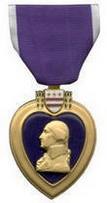 Sammy Crowns
Date and Place of Birth: February 2, 1919 Nekoosa, Wisconsin
Date and Place of Death: March 28, 1945 Romblon Island, Philippines
Baseball Experience: Semi-Pro
Position: Third Base
Rank: Private
Military Unit: 19th Infantry Regiment, 24th Infantry Division US Army
Area Served: Pacific Theater of Operations
<![if !vml]>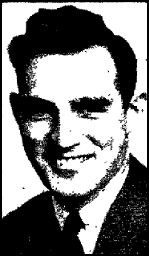 <![endif]>
Howard R "Sammy" Crowns was born in Nekoosa, Wisconsin on February 2, 1919. He attended Alexander High School in Nekoosa where he starred in baseball, football and basketball.
He later worked for the Nekoosa-Edwards Paper Company and played baseball in the Wood County League with the Nekoosa team and basketball with the Modern Shoes team in the Wisconsin Rapids City League. Crowns was an all-star baseball player at third base but is best remembered for his basketball prowess. "Sammy was speed personified on the basketball court," wrote Don Unferth in the Wisconsin Rapids Daily Tribune on April 24, 1945.
On May 31, 1939, Crowns married Geneva Jackson. They had two daughters, Jeanine and Juanita.
Military service beckoned on May 22, 1944 and he received basic training at Camp Hood, Texas. Crowns was home on a furlough in October 1944 and it would be the last time he saw his wife and daughters before heading overseas. He was transferred to Fort Ord, California after that furlough and left for overseas in December 1944.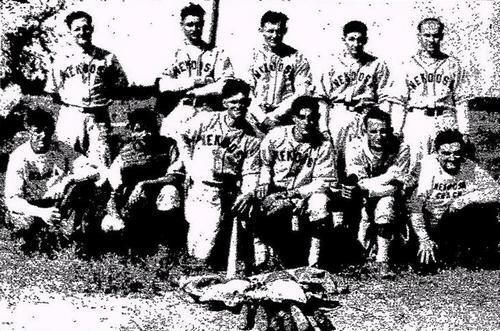 Nekoosa baseball team 1937 (Crowns is front row, fourth from left)
Private Crowns served with the 19th Infantry Regiment, 24th Infantry Division in the Pacific Theater. In March 1945, he was part of the invasion force that landed on Romblon Island in the Philippines. Private Crowns lost his life on March 28.
"It is sad indeed to learn of the death of Howard 'Sammy' Crowns in action in the Philippines," wrote Unferth in the Daily Tribune on April 24, 1945. "Sammy's wife, his daughters, his parents will miss him terribly. The Wisconsin Rapids City League will miss him too."
Added September 18, 2006
Copyright © 2007 Gary Bedingfield (Baseball in Wartime). All Rights Reserved.