Go on, why not sponsor this page for $5.00 and have your own message appear in this space.


Click here for details



Those Who Died That Others Might Be Free
World War II Hero of the Minor Leagues
Jerry Angelich
Date and Place of Birth: 1916 Wilmington, California
Died: December 7, 1941 Hickam Field, Honolulu, Hawaii
Baseball Experience: Minor League
Position: Pitcher
Rank: Private
Military Unit: Headquarters Squadron, 17th Airbase Group, US Army Air Corps
Area Served: Pacific Theater of Operations
Jerry Angelich had trials with the Pacific Coast League's Sacramento Senators and pitched against the legendary Japanese hurler, Eiji Sawamura. Both would lose their lives during World War II.

Jerry M. Angelich was born in Wilmington, a district of Los Angeles, California, in 1916, and was a star athlete at local Banning High School. A slow ball pitcher, he had trials with the Sacramento Senators of the Class AA Pacific Coast League in 1935 and was with the team for pre-season exhibition games in early March.

On March 18, Angelich was selected by manager Kettle Wirts to start for the Senators against a touring Japanese professional all-star team at Moreing Field. Before a crowd of 4,200, and with Wirts behind the plate, Angelich was locked in a pitching duel with 18-year-old Japanese ace Eiji Sawamura. In Japan, the previous November, Sawamura had faced a team of visiting major league all-stars including Babe Ruth, Jimmie Foxx, Lou Gehrig and Charlie Gehringer. Entering the game in the fourth inning, the high school pitcher struck out nine batters and held the Americans to a single run over five innings; a home run by Gehrig in the seventh that left Sawamura with the loss. However, he was immortalized by Japanese fans for striking out Gehringer, Ruth, Gehrig, and Foxx in succession.

Angelich, who hurled eight innings and was relieved by Bill Hartwig in the ninth, was beaten by Sawamura, 2-1. The Senators managed just five hits off the Japanese youngster.

Angelich signed a contract with Sacramento on April 5, but was released on April 20. He had a further trial with Sacramento in 1936, and later played for the Provo Timps of the Utah Industrial League – a thriving semi-pro circuit with six teams fielding formidable line-ups that competed throughout state. On September 3, 1939, he pitched a 3-1, five-hitter over Magna-Garfield to take Provo to the league championships, which they clinched over Pinney Beverage for their first title since 1932.

Angelich entered military service with the Army Air Force on August 19, 1941. He was stationed at Hickam Field in Hawaii with Headquarters Squadron, 17th Airbase Group.

On December 7, 1941, during the Japanese surprise attack on Hawaii, their planes bombed and strafed Hickam to eliminate air opposition and prevent U.S. planes from following them back to their aircraft carriers. Hickam suffered extensive damage and aircraft losses, with 189 people killed and 303 wounded.

Private Angelich was attempting to operate a machine gun in a wrecked airplane when he was killed by strafing Japanese fighter planes. He is buried at the Honolulu Memorial in Hawaii.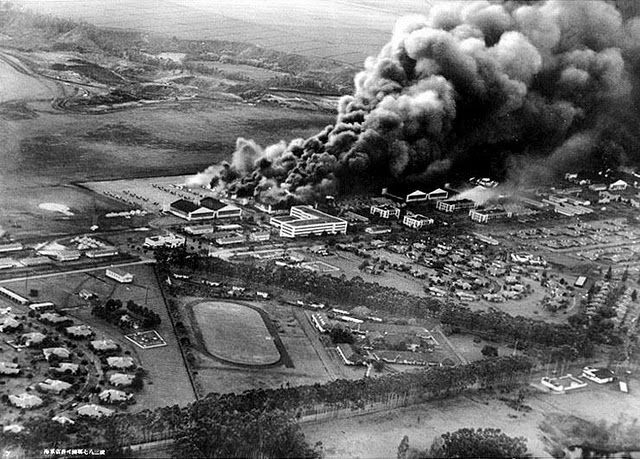 Hickam Field burns during the Japanese attack, December 7, 1941

Sawamura, the Japanese pitcher Angelich hurled against in 1935, went 15-3 in 1936 for the Tokyo Giants in the first professional season. On September 25, 1936, he pitched the first no-hitter in Japanese professional baseball history. He had an incredible 33-10 record and 1.38 ERA in 1937, but was drafted for military service in January 1938. Aged 23, he returned to professional baseball in 1940 but was unable to put up the numbers he achieved in previous years.

A second tour of duty came in 1942 before playing his last professional season in 1944. Sawamura ended his career with a 62-22 record and 1.71 ERA. Serving with the Imperial Japanese Navy, he was killed near the Ryukyu Islands when his ship was torpedoed on December 2, 1944.

Eiji Sawamura was inducted into the Japanese Baseball Hall of Fame in 1959. Since 1947, the Sawamura Award (Japan's equivalent to MLB's Cy Young), has been given to the best pitchers in professional Japanese baseball.
Added April 30, 2007. Updated February 13, 2011.
Copyright © 2013 Gary Bedingfield (Baseball in Wartime). All Rights Reserved.